ADJ Lights Up California Plaza For Summer-Long 'Grand Performances' Concert Series
Throughout the summer, a lighting rig comprised almost exclusively of ADJ IP65-Rated fixtures was used to illuminate the 'Grand Performances' series of free concerts in downtown LA. California Plaza was illuminated for the weekly Saturday evening concerts by ADJ's lime-infused Encore Series of static led wash fixtures, complemented by Hydro Wash X19 moving heads. In addition, key lighting and gobo projections were handled by ADJ's flagship Hydro Profile IP-Rated automated profile luminaires, which sat at the heart of lighting designer Edgar Gonzalez's extensive rig.
Grand Performances is a non-profit organization that provides free access to global performing arts, made possible thanks to generous support from the LA City Department of Cultural Affairs and LA County's Department of Arts and Culture. Its mission is to inspire community, celebrate diversity, and unite Los Angeles through music, dance, poetry, theater and more. The organization has presented free live concerts in downtown LA since 1986 and this year's program featured an exciting and eclectic line-up of global music, dance, and poetry. Concerts took place almost every Saturday evening, from June 3 through August 26, featuring performers from Latin America, Africa, the Middle East and Asia, covering a diverse mix of genres, from cumbia to hip hop, funk to jazz, and much more. As well as attracting large crowds in person, each concert was also filmed professionally and made available for online viewing through YouTube.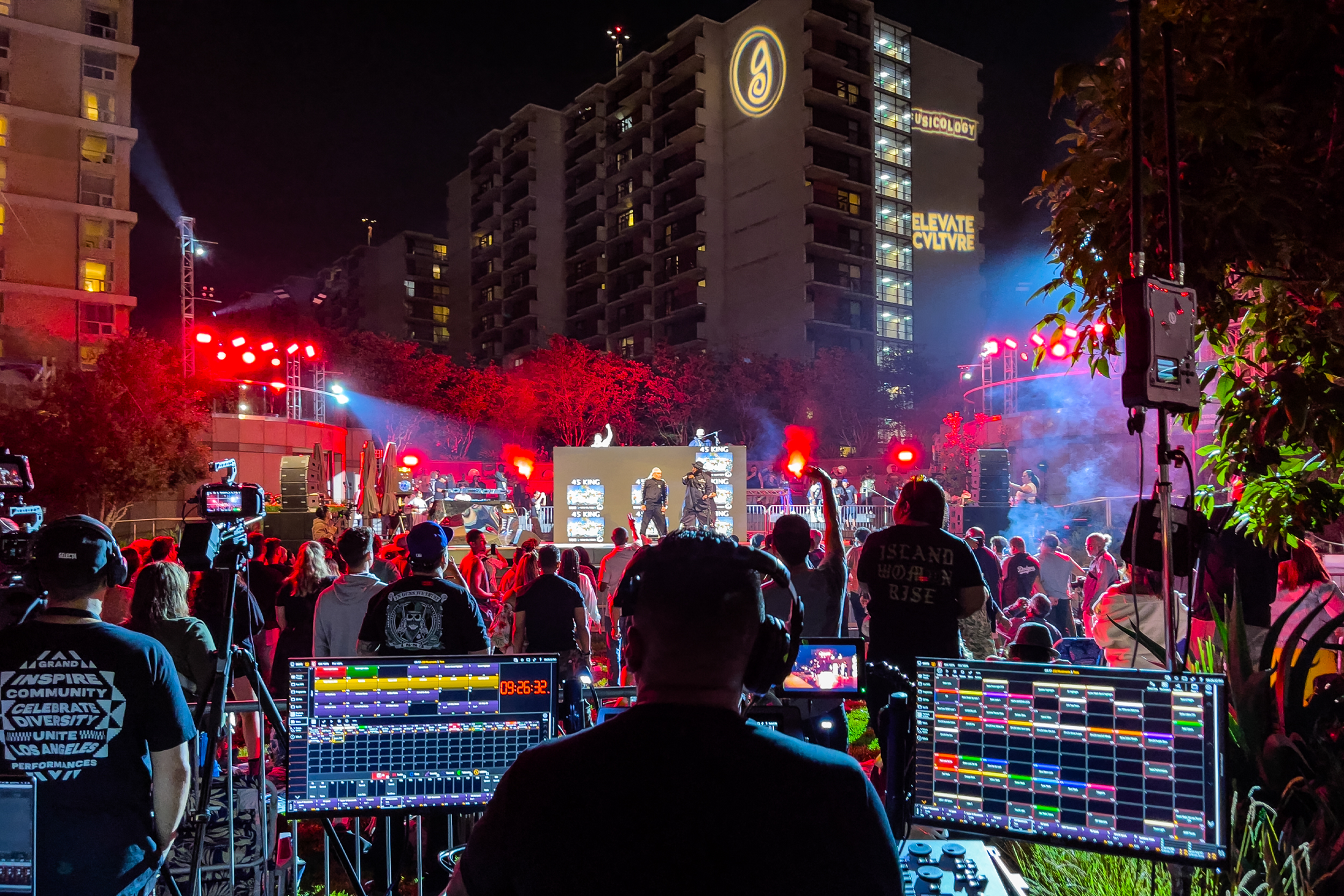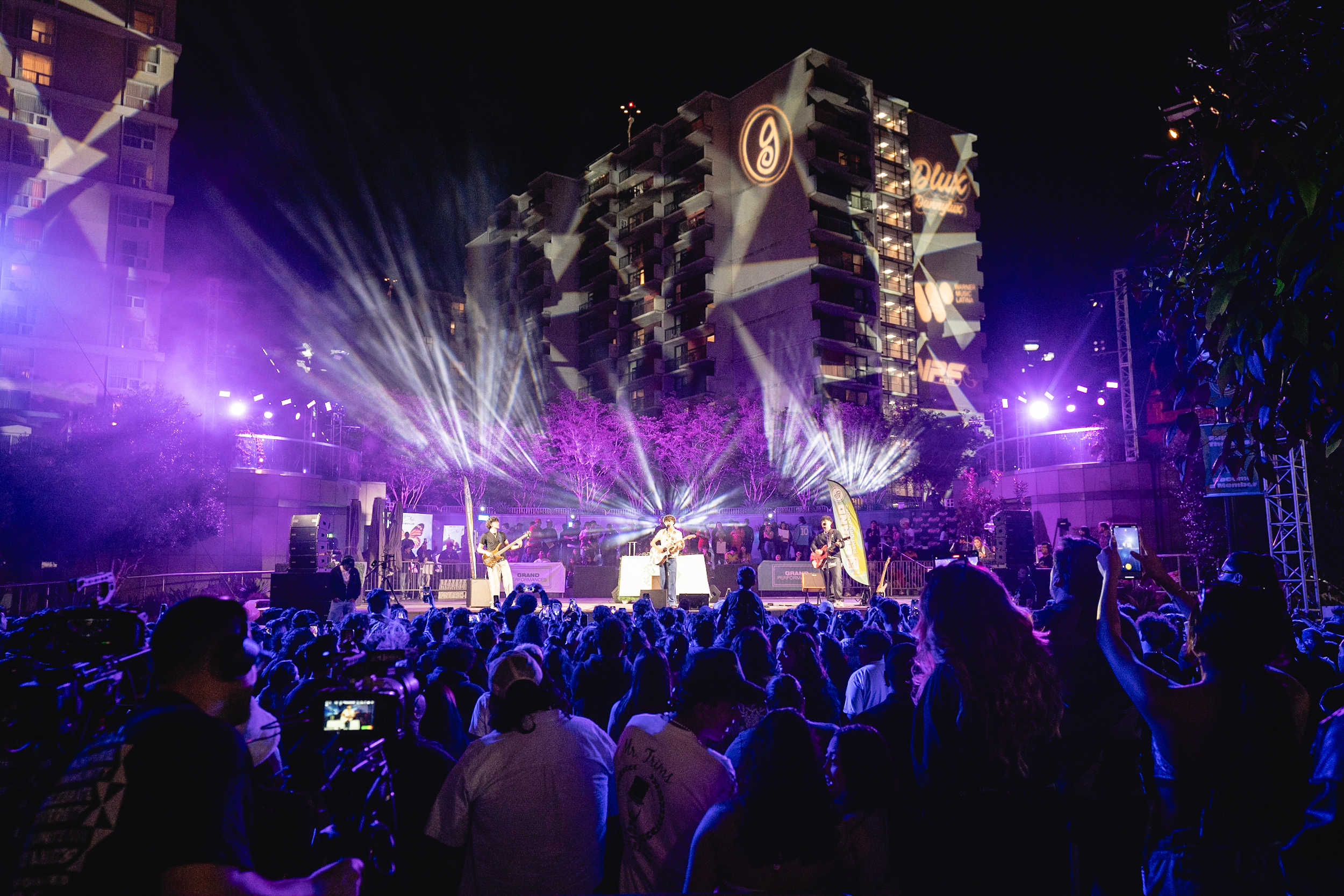 The concerts are hosted in California Plaza Park, a large public recreational space located in the Grand Avenue Arts District of Downtown Los Angeles, at the top of the historic Angel's Flight funicular railway. The multilevel park features a raised area that makes for an ideal stage, which features a backdrop of stone planters, mature trees, and apartment buildings in the distance. The Grand Performances organization owns its own lighting system, which is rigged from two side-stage truss structures and two front of house truss towers. Prior to this season, the lighting featured older conventional fixtures that were due to be replaced anyway but were finished off by the very rare rainstorms that hit LA in the Spring!
Fortunately, Lighting Designer Edgar Gonzalez had already put together a proposal for a new LED-powered, IP65-rated system using predominately ADJ fixtures. The pre-season rain expedited the purchase of the new equipment, and it was all in place ready for the first night of the summer run. Edgar was first brought in to work on Grand Performances in 2022 as a Programmer/Operator, the success of which led to his appointment as Lighting Design for this season. The new lighting system was purchased through Latin Power Lighting & Sound, based in South Gate, CA, and installed by Edgar's own company, Designs By Lighting, working in collaboration with Grand Performances' in-house crew.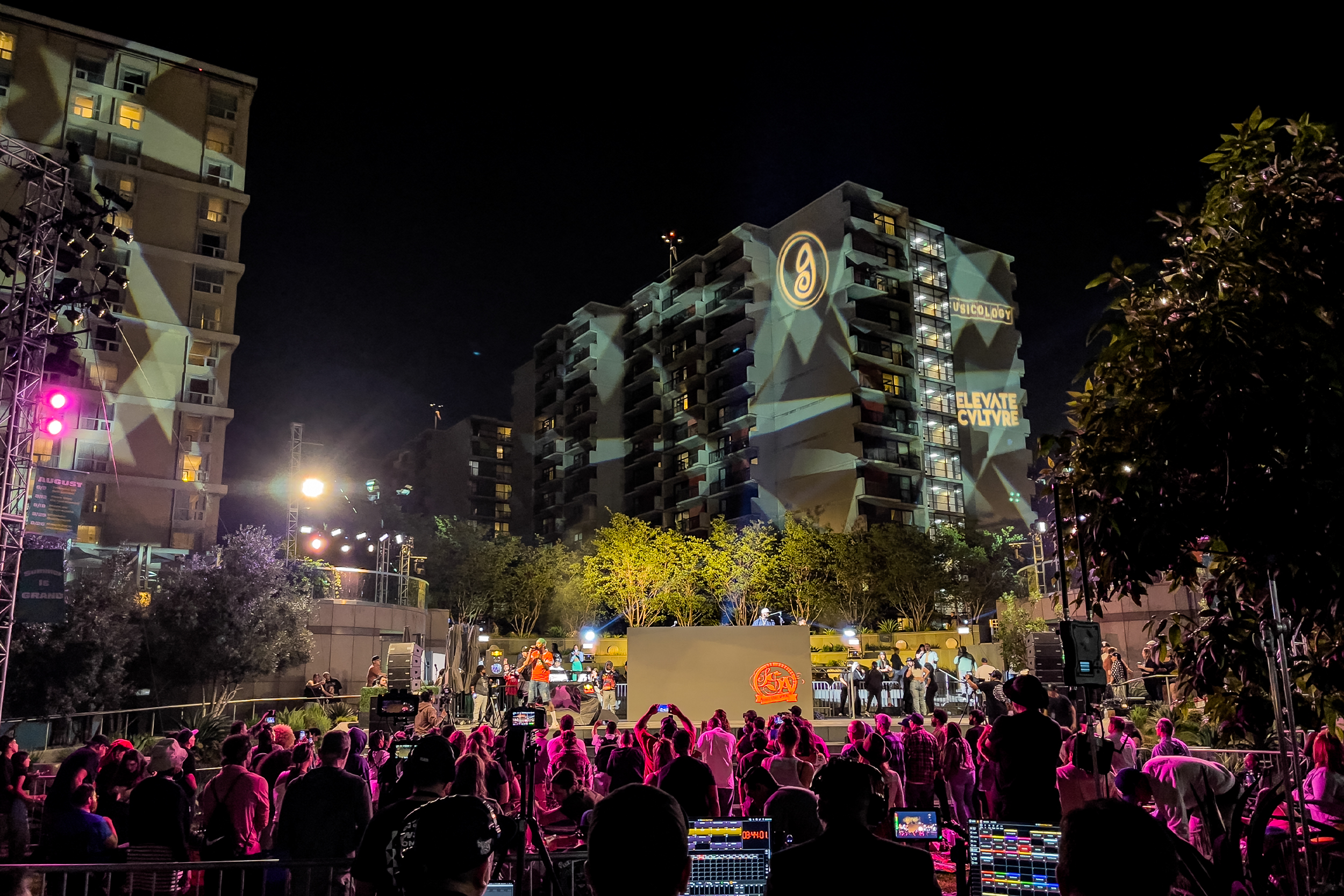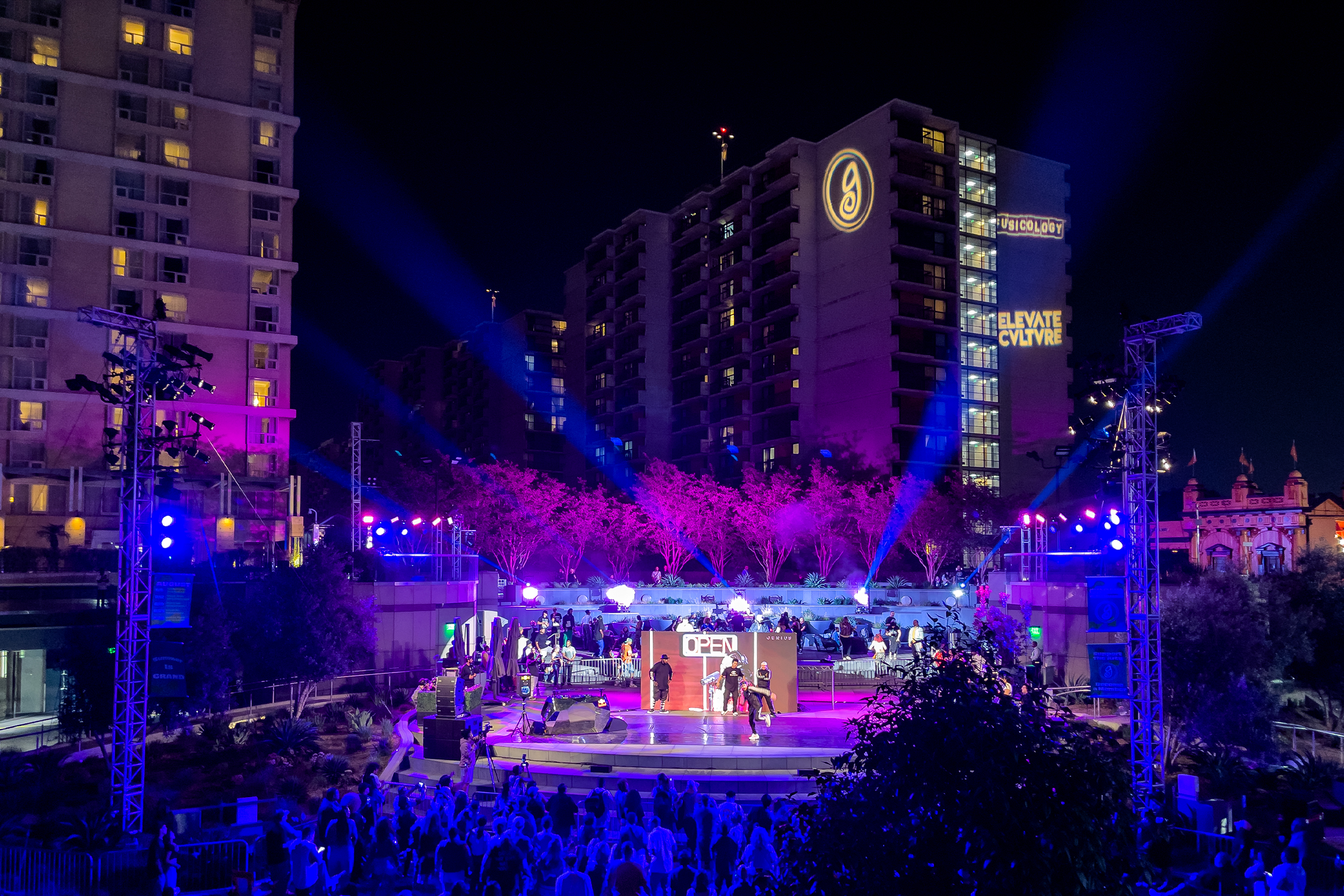 The new system's key moving head fixture is ADJ's Hydro Profile. With a robust external casing that has a sealed IP65-rated design, the Hydro Profile has been created to withstand the rigors of the road. It can be used for temporary outdoor shows and events in any weather as well as for indoor productions where it is protected against everything from dust and smoke residue to spilt drinks and humidity. The fixture combines a potent 660-Watt cool white LED light engine, which offers an impressive output of 25,000+ Lumens, and an expansive feature set to deliver a truly powerful and versatile luminaire. A total of ten units are utilized across the Grand Performances rig, with four fixtures providing key lighting – two on each of the front truss towers, and six more – split equally between the two side stage trusses, used to create textured GOBO projections and aerial beam effects.
"I've really enjoyed working with the Hydro Profiles," comments Edgar. "They are plenty bright, pretty punchy, and have all the features I could ask for. I've particularly appreciated the framing system, having the ability to precisely shutter off areas of the light output is extremely useful. For example, for one of the performances that was DJ-based, we had a video wall in front of the DJ setup and I was able to use the framing to light the performers perfectly without hitting the screen at all. It's also great to have CMY color mixing: sometimes I will run color effects over both the LED fixtures and the profiles and that works really well. Finally, the rotating GOBOs, prisms and, particularly, the animation wheel, mean that I can create movement without actually moving the fixtures. Projecting on the buildings behind the stage, I was able to create some really nice looks that set the right mood for the more laid-back performances."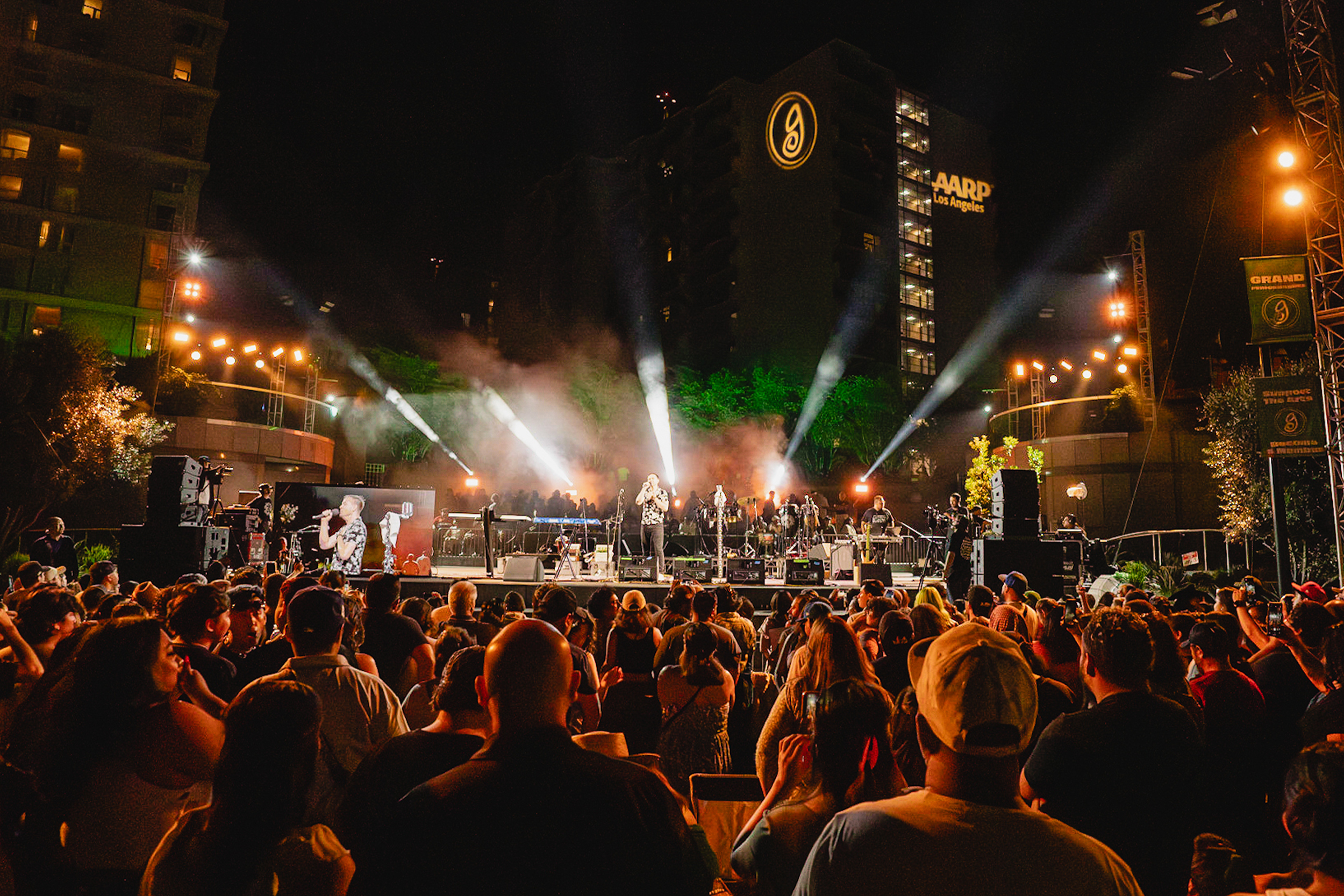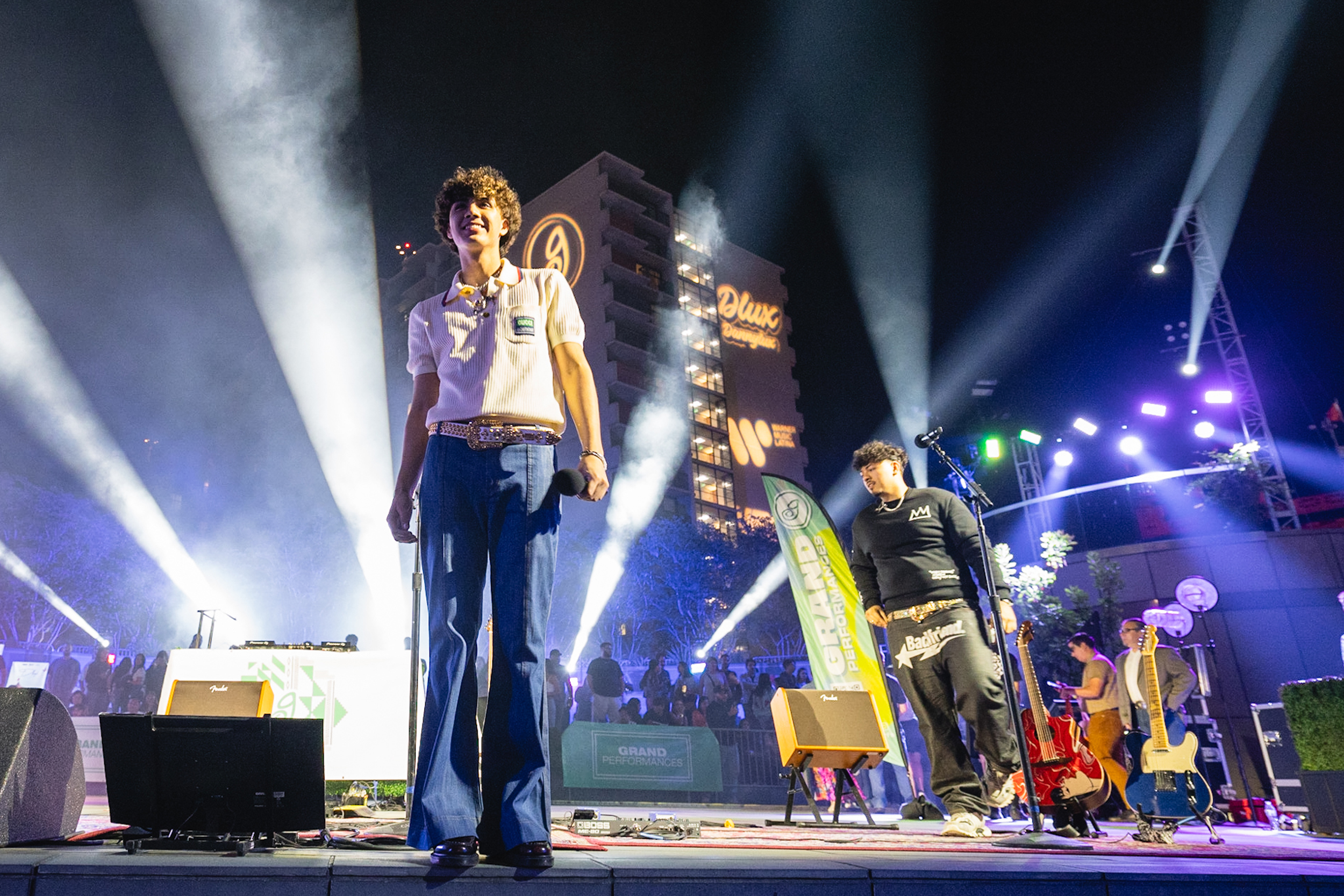 The other fixture from ADJ's Hydro Series which Edgar selected for the rig was the Hydro Wash X19. Featuring 19 x 40W Osram RGBW color mixing LEDs, this potent fixture can be used to generate a variety of different looks and effects. Its motorized zoom function allows for a variable beam angle of between 6 and 40-degrees, while its LEDs can be pixel mapped to allow the creation of 'eye candy' visual effects. Six units were utilized within the Grand Performances rig, with three rigged to each of the side stage truss structures.
"I used the Hydro Wash X19s in a few different ways," explains Edgar. "They could hit the stage as side lights, I could zoom them in to create a beam effect for ballyhooing, and I also had them in the full extended mode so could make use of their pixel control capabilities. Using the DyLOS media engine from Obsidian I ran effects across the X19s, as well as the LED panels and pars, which are particular important as these shows started before sunset. I relied on those eye candy effects for the first part of the evening and then moved more into beam effects when it became fully dark later in the evening."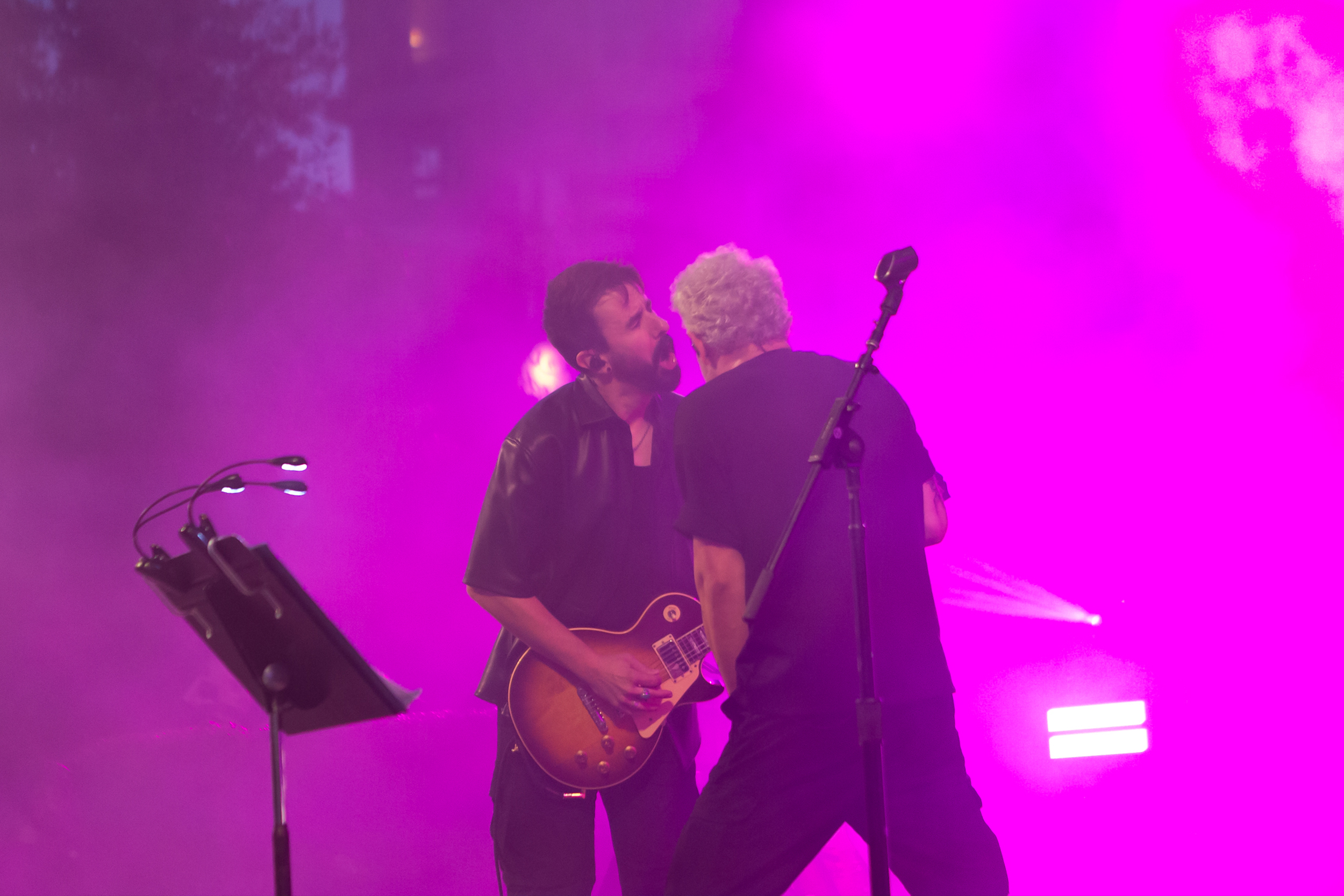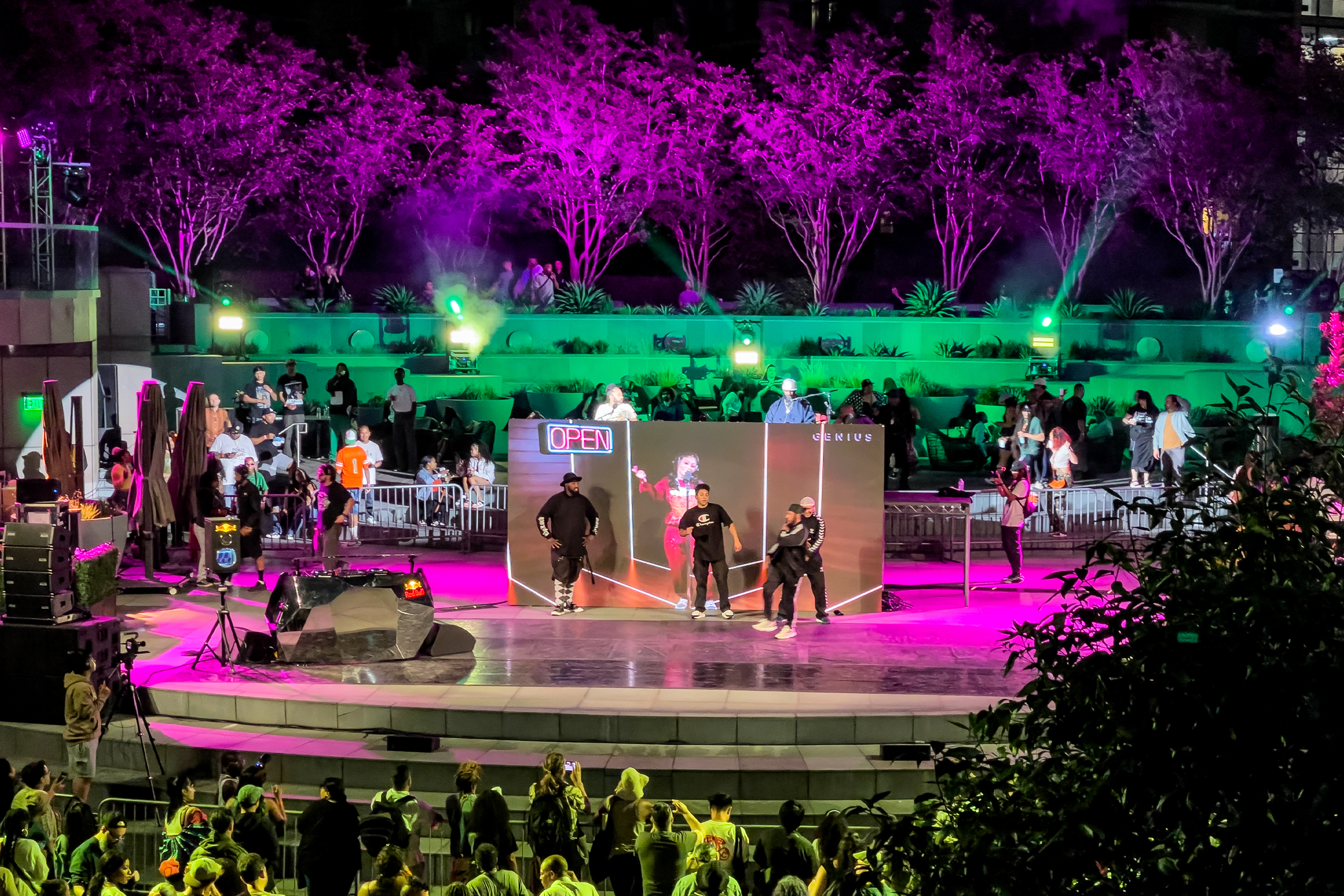 Additional eye candy effects were created using ADJ's multifunctional Jolt Panel FX LED strobe/wash fixtures. Each unit features a central strip of 48 x 5-Watt cool white SMD LEDs, surrounded on both sides by a total of 800 x 0.3W RGB SMD color mixing LEDs. This provides designers with the creative potential of generating both strikingly bright white strobe effects and vibrant color washes from the same compact fixture. For Grand Performances, Edgar specified five of these units, which were rigged to ladder trusses positioned at the rear of the stage area. The ladders were mounted on castors, allowing them to be moved around to accommodate the different configurations and backline requirements of each week's featured performer.
"The Jolt Panel FX is a very bright fixture, in fact most of the time I had to dim them down!" explains Edgar. "They are also very versatile. I liked using the central white LED strip to highlight downbeats and to create big moments, while the colored LED segments are great for eye candy effects, again, especially before it is dark enough to really make use of beam effects. Using the in-built macros has helped to speed up my programming and having the ability to select a custom color for those to tie in with the rest of the rig is pretty great."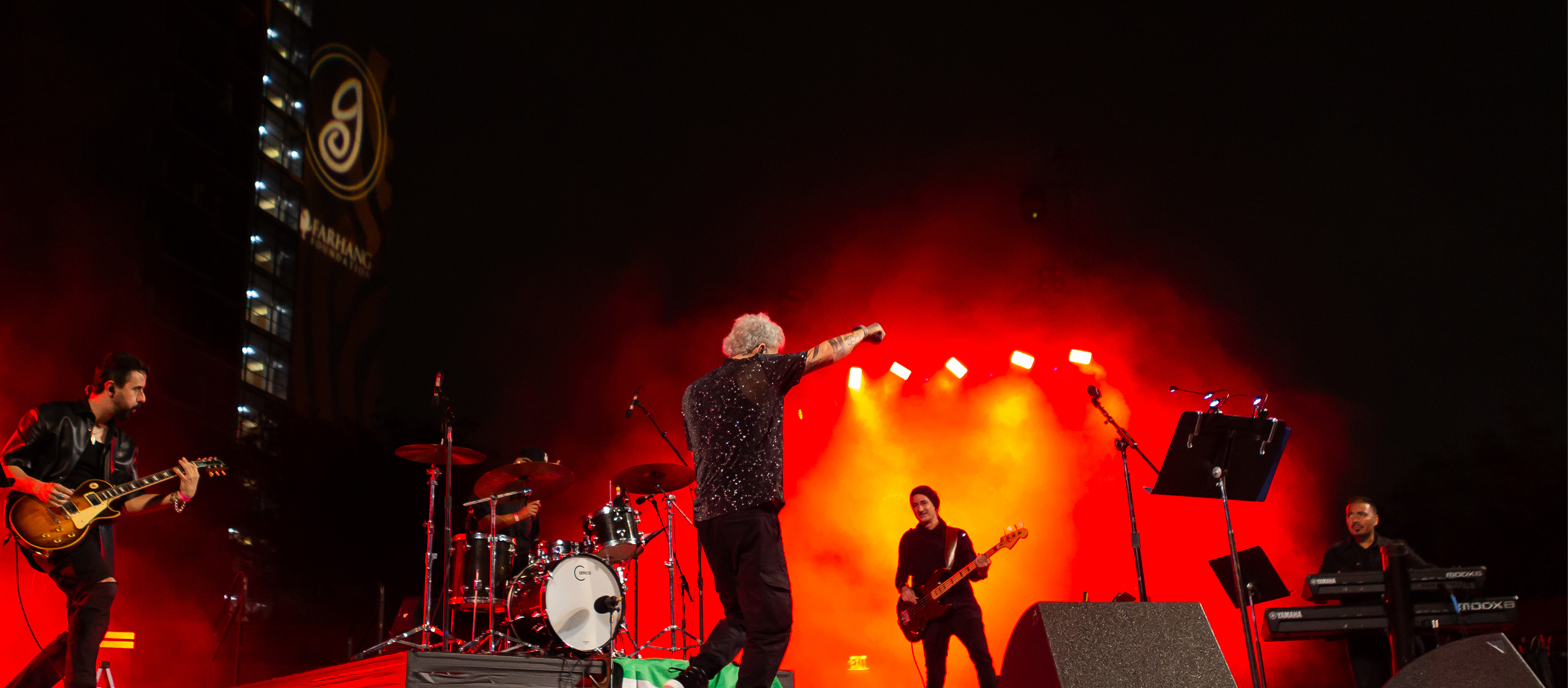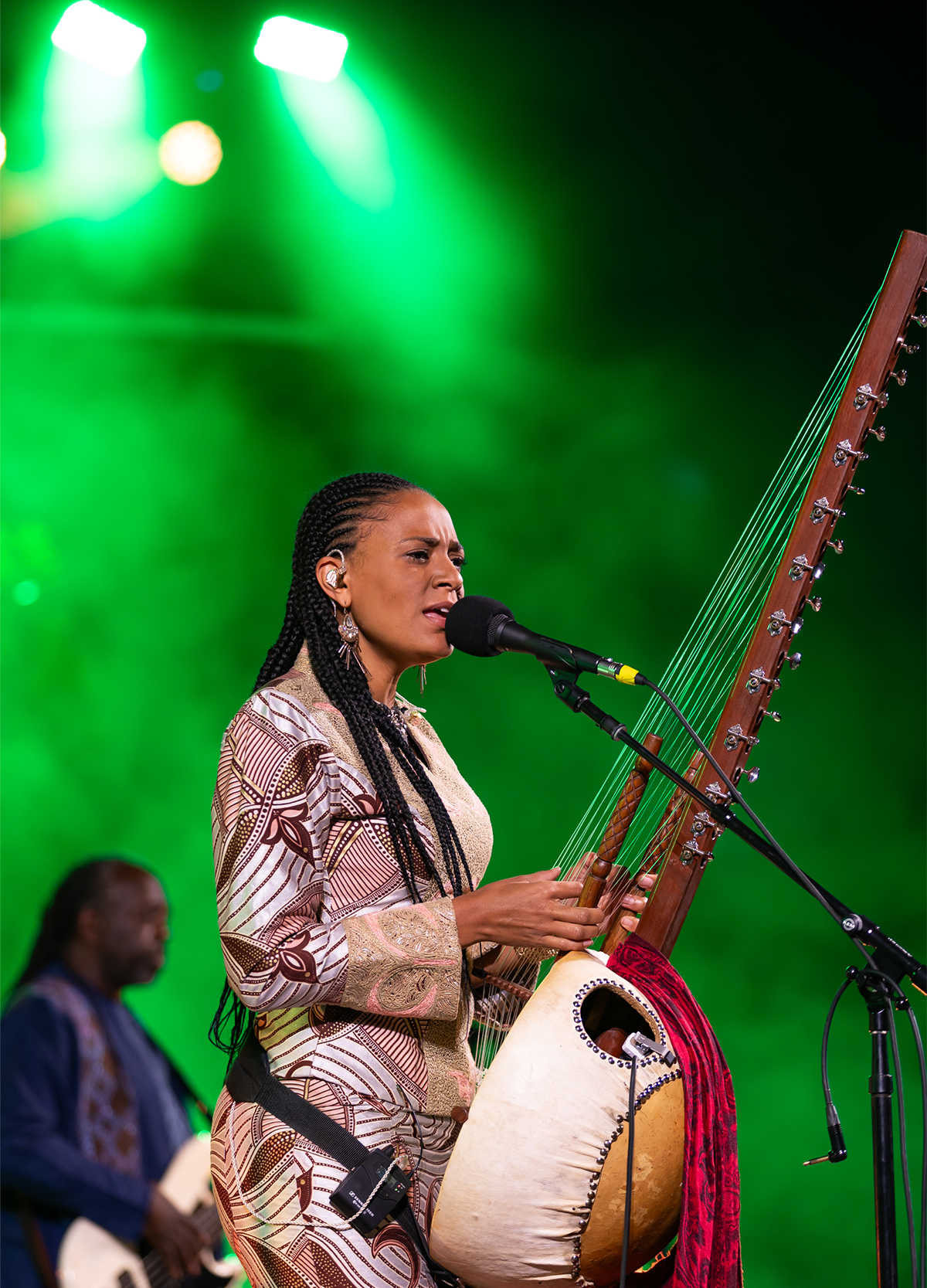 In addition to the moving heads and Jolt Panel FXs, Edgar also utilized multiple fixtures from ADJ's Encore Lime Series of LED wash fixtures to illuminate both the performance space and wider plaza area. Five Encore LP32 IP panel fixtures were rigged to each of the side truss structures, which provided side wash coverage for the stage as well as pixel effects visible from front of house. In addition, Encore LP18 IP LED par fixtures were mounted to the rear of the side trusses and used to point backwards and illuminate the trees and concrete planters which served as the stage's backdrop. Finally, the smaller Encore LP12 IP model was used to illuminate an amphitheater located off to the side of the main audience space. On the concert nights these were integrated into the main rig to extend the color washes out into the crowd, while they also provided the backbone of a standalone system used for monthly poetry nights hosted in the amphitheater.
"Having the lime LED chip on the Encore Lime Series fixtures really does make a difference when it comes to CRI," enthuses Edgar. "With the old system, the fixtures we were using to light the trees behind the stage hardly showed up at all on camera, now they really pop. That was a real highlight for me, and one of the things I want to keep concentrating on moving forward. For next year I'm hoping to add more Encore LP18IPs to the rig so that we can highlight more of the landscaping around the edges of the stage area and really animate the space with color. The fact that the LP32, LP18 and LP12 all use the same LED chip was also really important when I was designing the system as it makes for even color tones all across rig."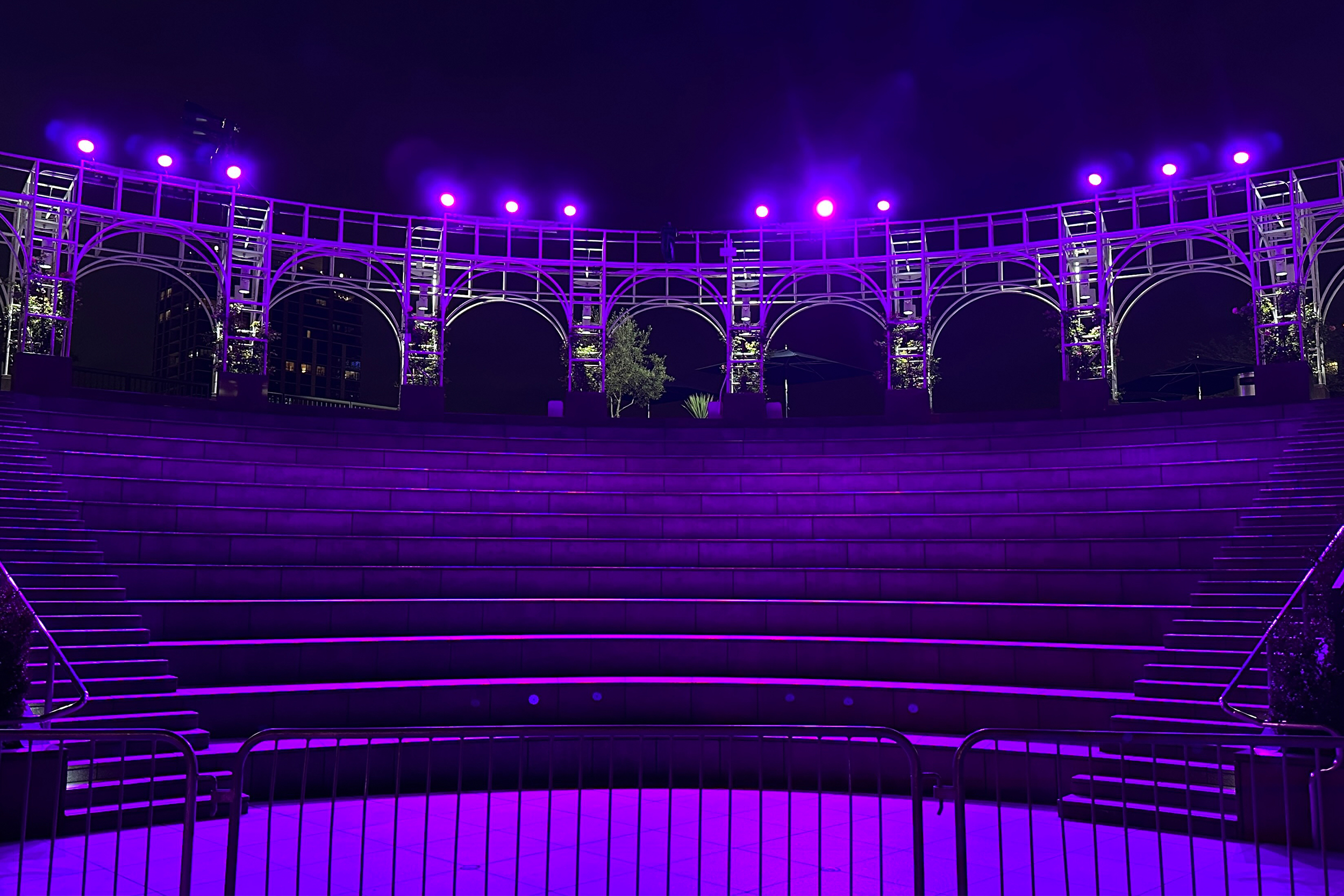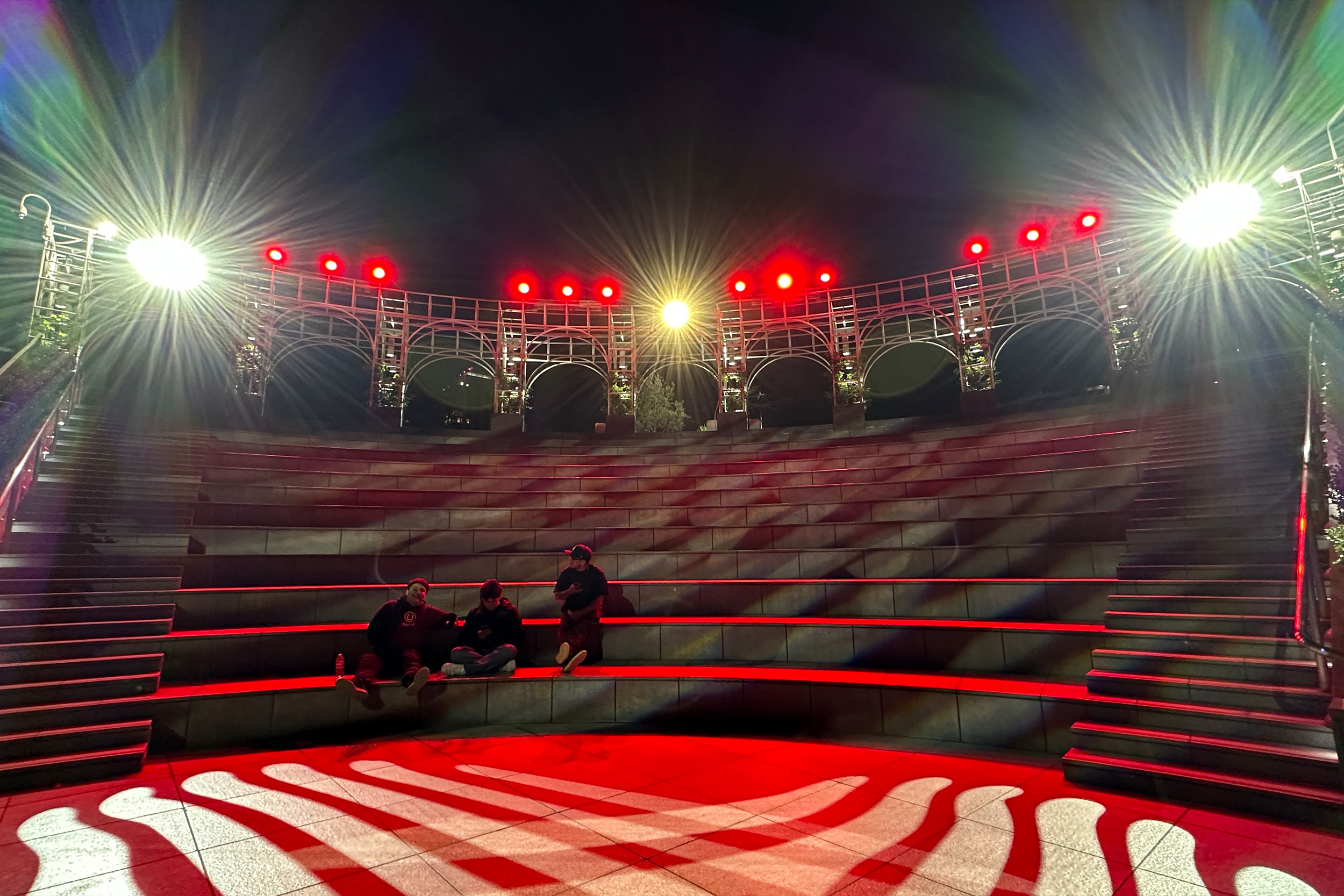 Complementing the Encore par fixtures in the amphitheater, Edgar also specified three of ADJ's Hydro Spot 2 feature-packed moving head spot luminaires. Powered by a potent 320-Watt cool white LED engine, offering an impressive 15,000 lumen output, it features a wide variety of beam shaping tools including motorized zoom and focus; two frost filters; CMY color mixing, variable CTO flag and independent color wheel; two GOBO wheels; two rotating prisms; and an animation wheel. Edgar utilized the fixtures for a variety of duties, including key light for the poetry evenings and projecting textured patterns across the plaza.
The Grand Performances series provided a perfect showcase for the breadth of ADJ's range of IP65-rated fixtures as well as their potential to illuminate a large outdoor performance space. Combining the vibrant washes of the Encore Lime Series and Hydro Wash X19, with the precision optics of the Hydro Profile and Hydro Spot 2, and the intense effects of the Jolt Panel FX, Edgar's lighting design proved suitably versatile to do justice to the wide variety of world musicians who were showcased throughout the event's three month season.
Event:
Grand Performances
350 South Grand Avenue, Suite A-4
Los Angeles, CA 90071
www.grandperformances.org
Lighting Designer:
Edgar Gonzalez
ADJ Dealer:
Latin Power Lighting & Sound
Design / Installation:
Designs By Lighting
(www.designsbylighting.com)
& Grand Performances
Photography:
Farah Sosa, Edgar Gonzalez & Brian Dowdle
Gear List:
10 x ADJ Hydro Profile
6 x ADJ Hydro Beam X19
3 x ADJ Hydro Spot 2
16 x ADJ Encore LP18IP
12 x ADJ Encore LP12IP
10 x ADJ Encore LP32IP
2 x ADJ Entourage
2 x Elation Professional DTW Blinder 700 IP
1x Obsidian Control Systems ONYX NX4
1x Obsidian Control Systems Netron EN12
2x Obsidian Control Systems Netron EN4