Key Features
Construction

• IP65 Rated: Ingress Protection against liquid, snow, dust and sand
• All metal construction
Optics

• Beam angle: 10.5°, 24.8° with frost filter
• Field angle: 23.7°, 47° with frost filter
Source

• Light Source: 32 x 20-Watt Quad RGBL LEDs (Red, Green, Blue & Lime)
• LUX: 157,491 @ 1M, 6,300 @ 5M (Full On); 28,363 @ 1M, 1,135 @ 5M (Full On) with Frost Filter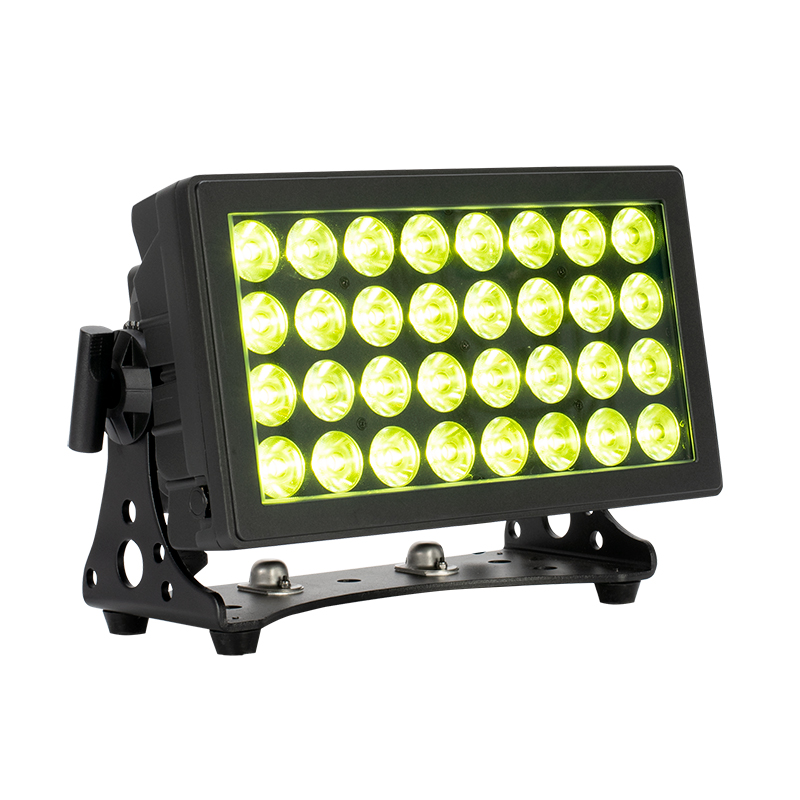 SKU: 1226100387
GTIN: 810087370206
HS-Code: 9405423990
Offering an impressive light output and versatile design, the ADJ Encore LP32IP is multi-functional LED wash lighting fixture with an IP65-rated casing. It is part of ADJ's Lime Par Series of LED fixtures utilizing high output 4-in-1 color mixing LEDs that each include individually controllable red, green, blue and lime elements. Each LED is rated at 20-Watts and offers a wide variety of color options achieved through mixing the four primary colors at varying levels of intensity. These include white light with a variable color temperature of 2700K to 7000K, which can be easily selected using either linear control or preset macros. Inclusion of the Lime LED element boosts both CRI and perceived brightness as well as filling in gaps in the color spectrum.
The LP32IP's LEDs are arranged into 8 individually controllable sections, which can be used to create engaging 'eye candy' animated patterns and pixel-mapped effects. It offers a tight native beam angle of 10.5-degrees, which can be easily widened to 24.8-degrees using the included diffusion filter and magnetic filter frame. The included heavy-duty bracket can either be used to stand the fixture directly on the floor or to mount it to truss using its integrated omega clamp receivers. The bracket's design also incorporates a sure-lock system which slots into place at 10-degree intervals, making it extremely easy to set multiple fixtures to precisely the same angle.
With a robust all metal construction and durable black powder coating, the LP32IP is designed for use in professional entertainment lighting environments. It has an IP65 rating, which means that it is sealed to prevent the ingress of liquid, snow, dust, and sand. This makes it suitable for temporary outdoor use as well as for indoor applications where the fixture may be subject to liquid spillage or come into contact with excessive dust or dirt.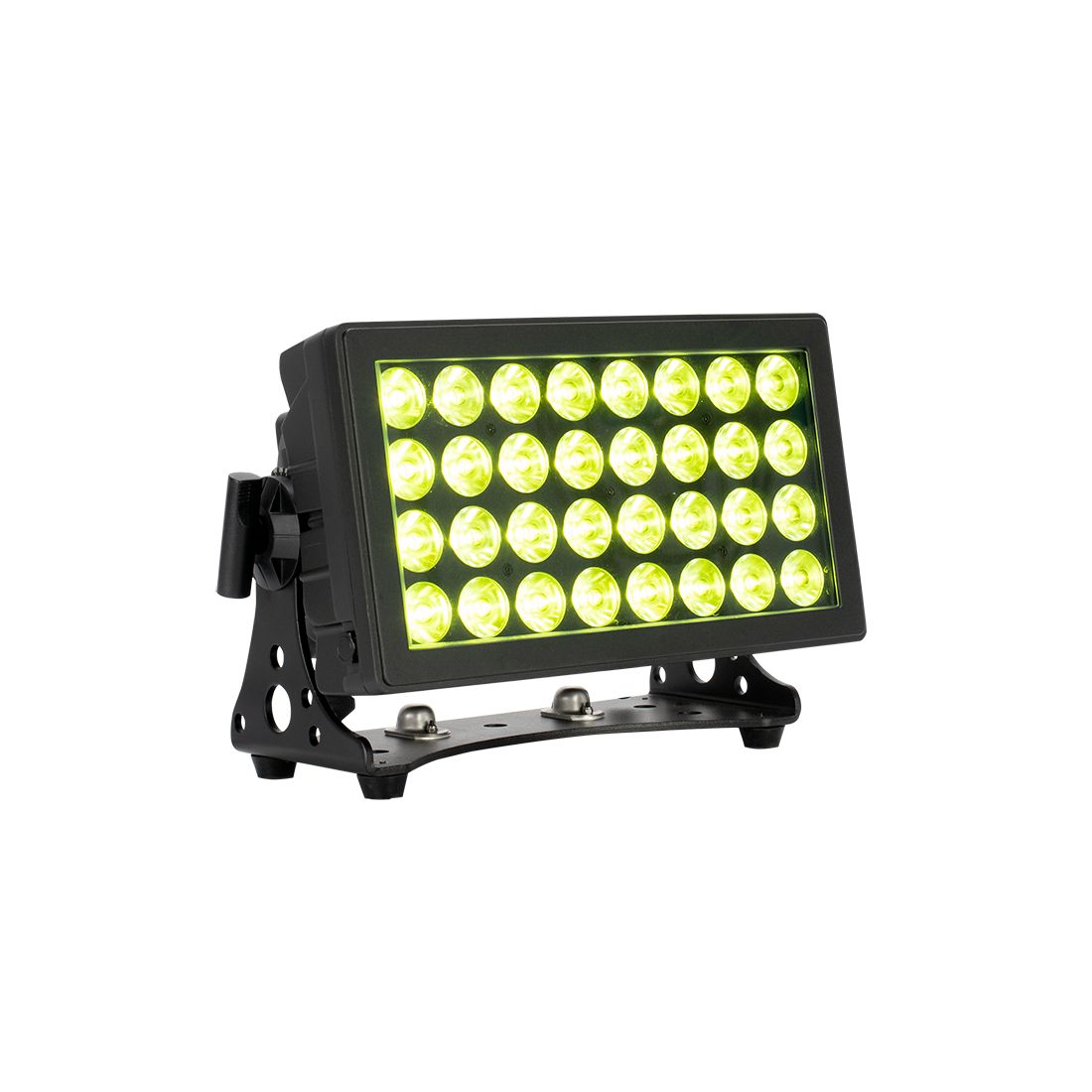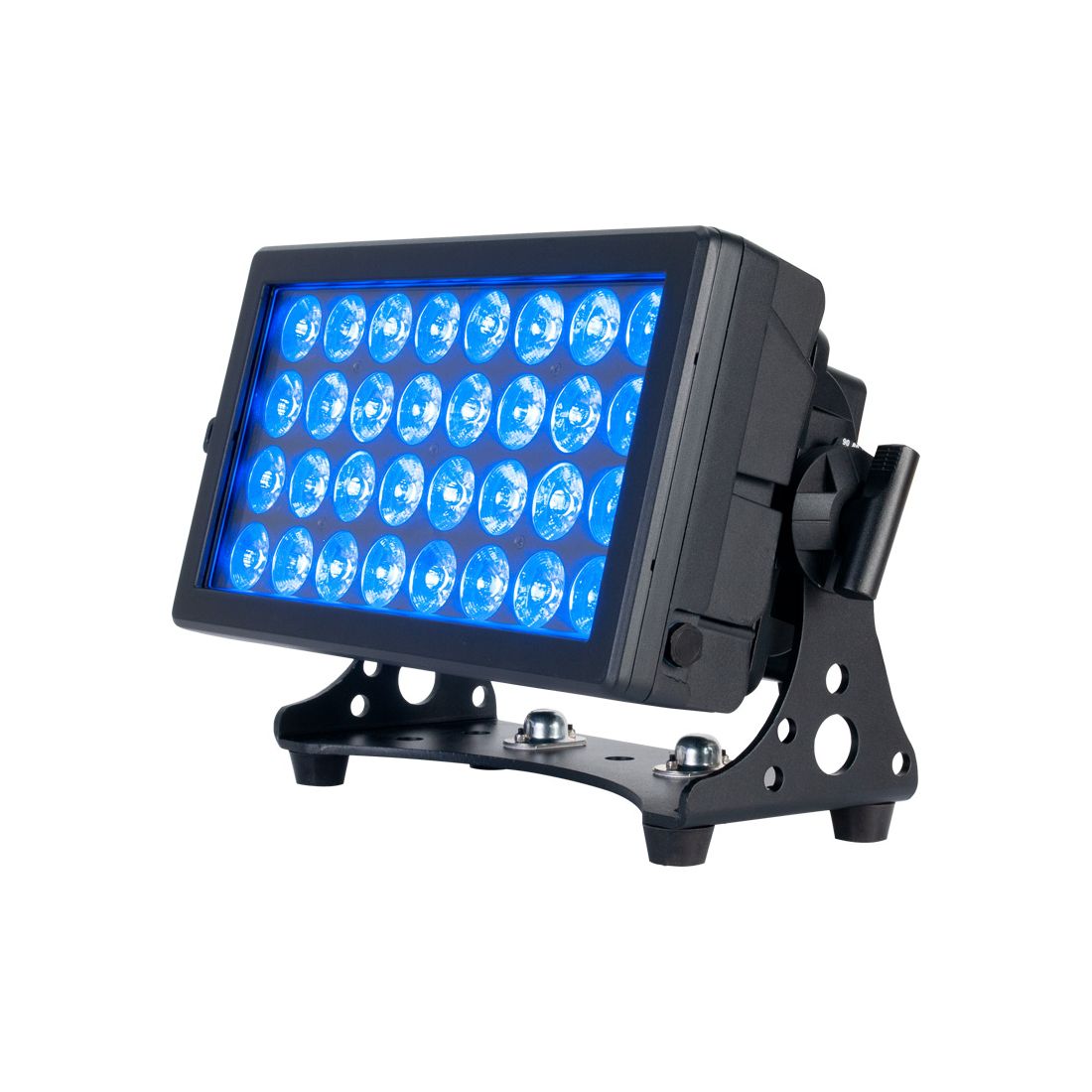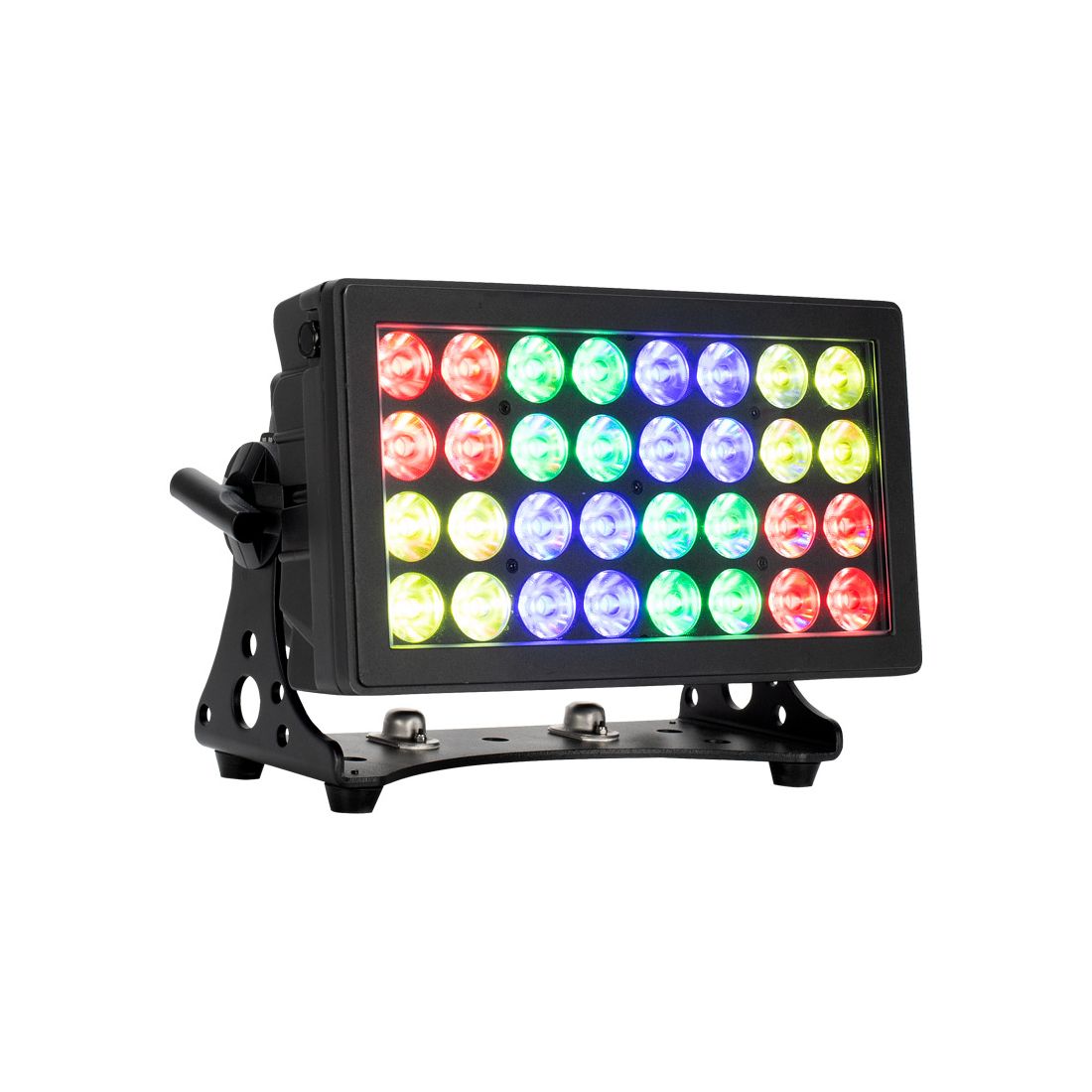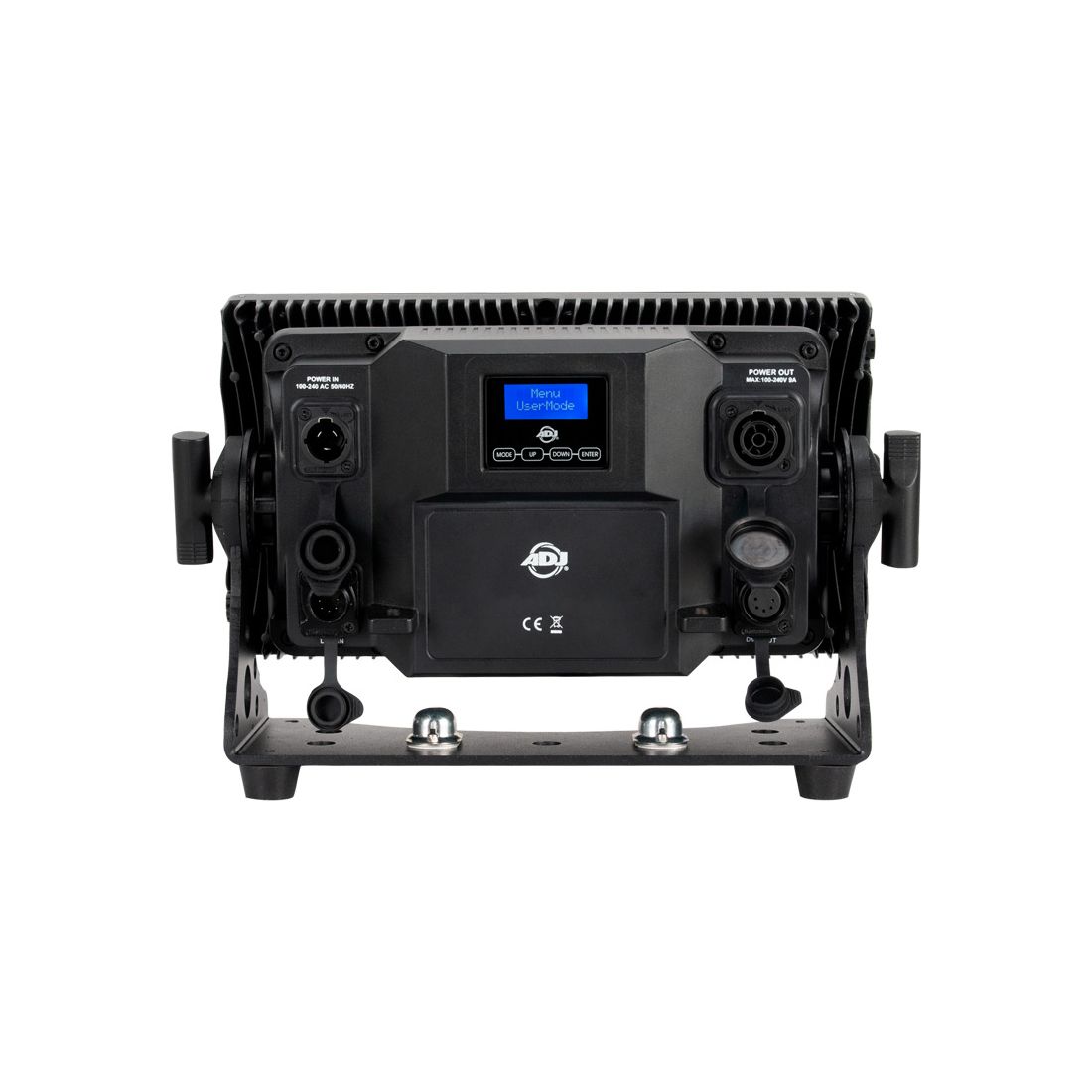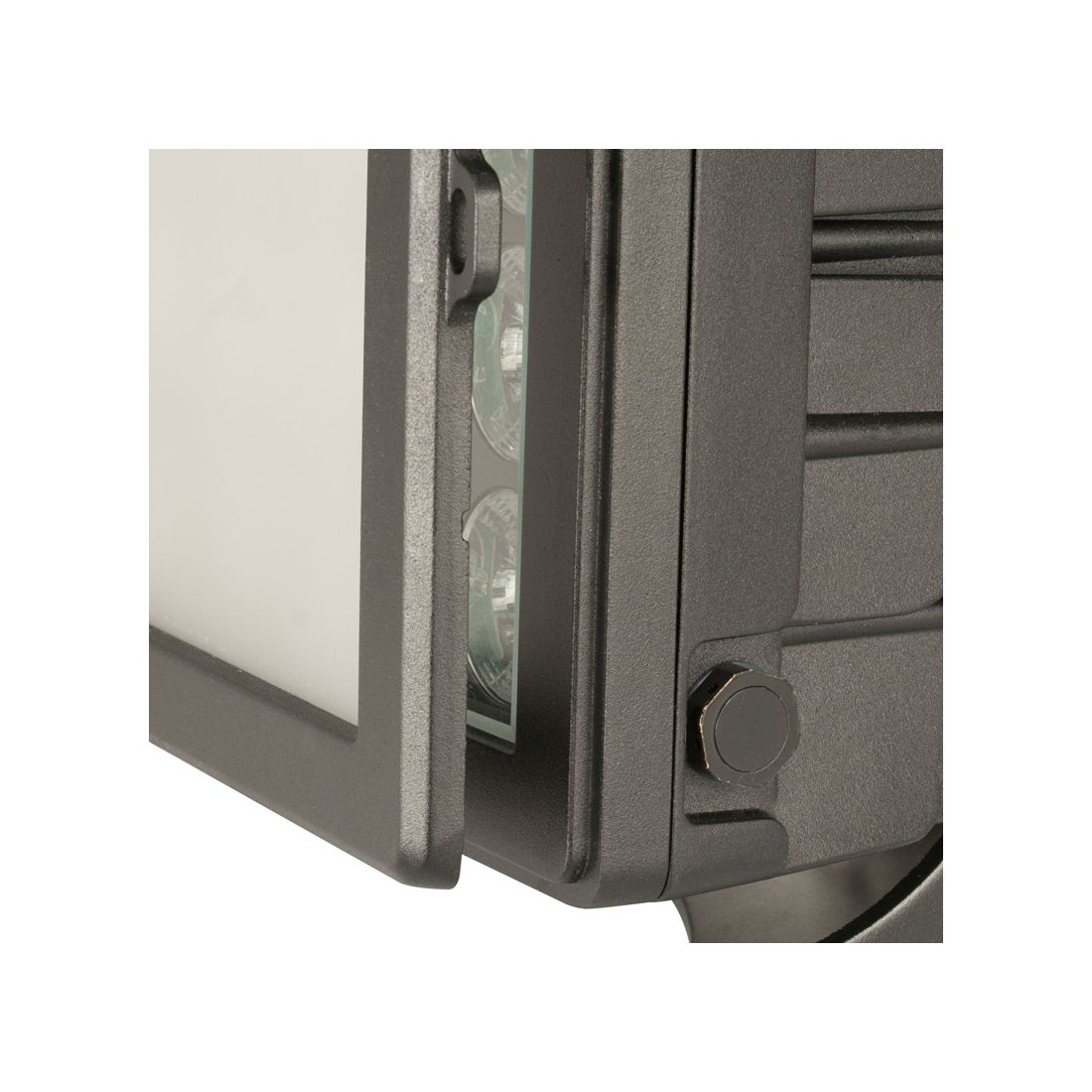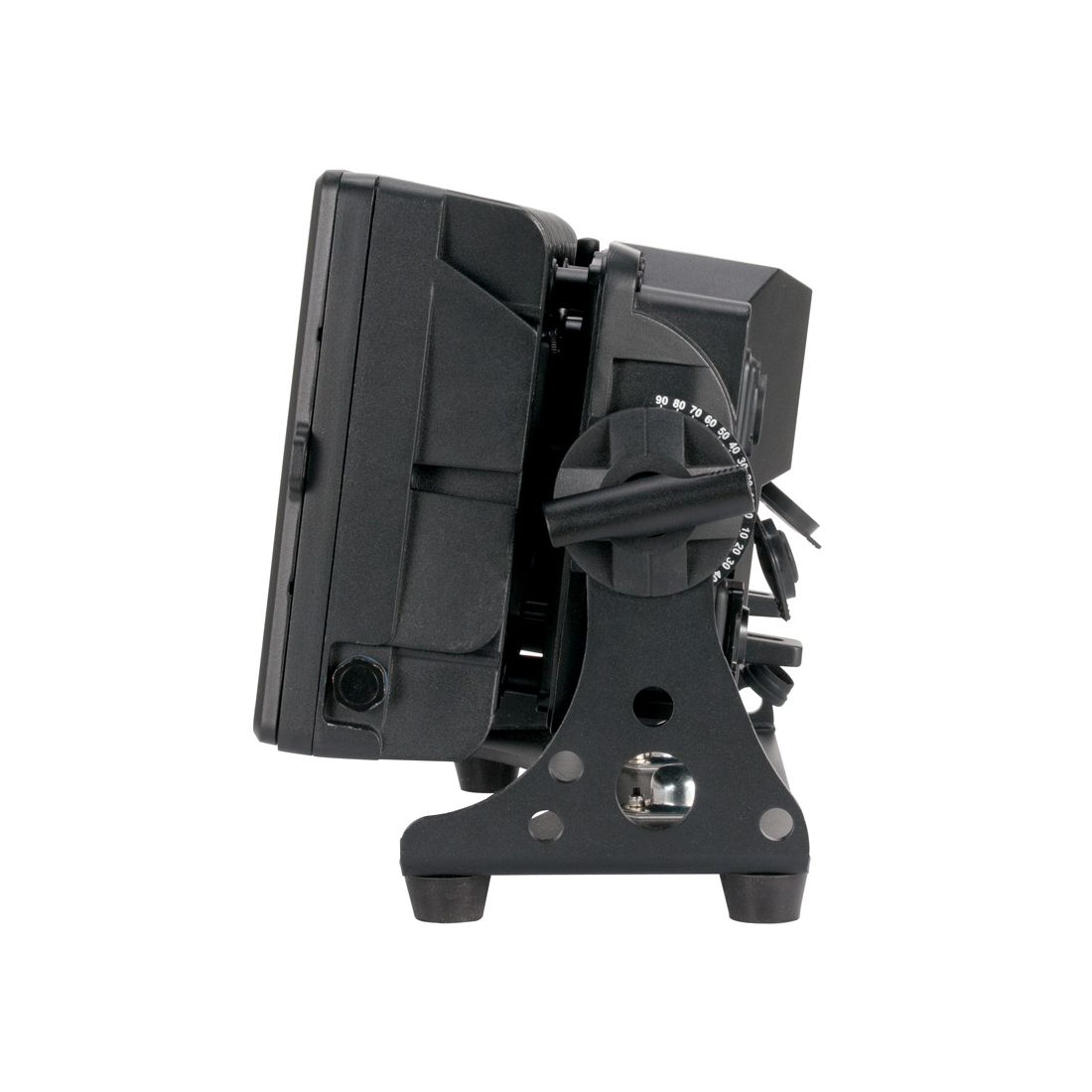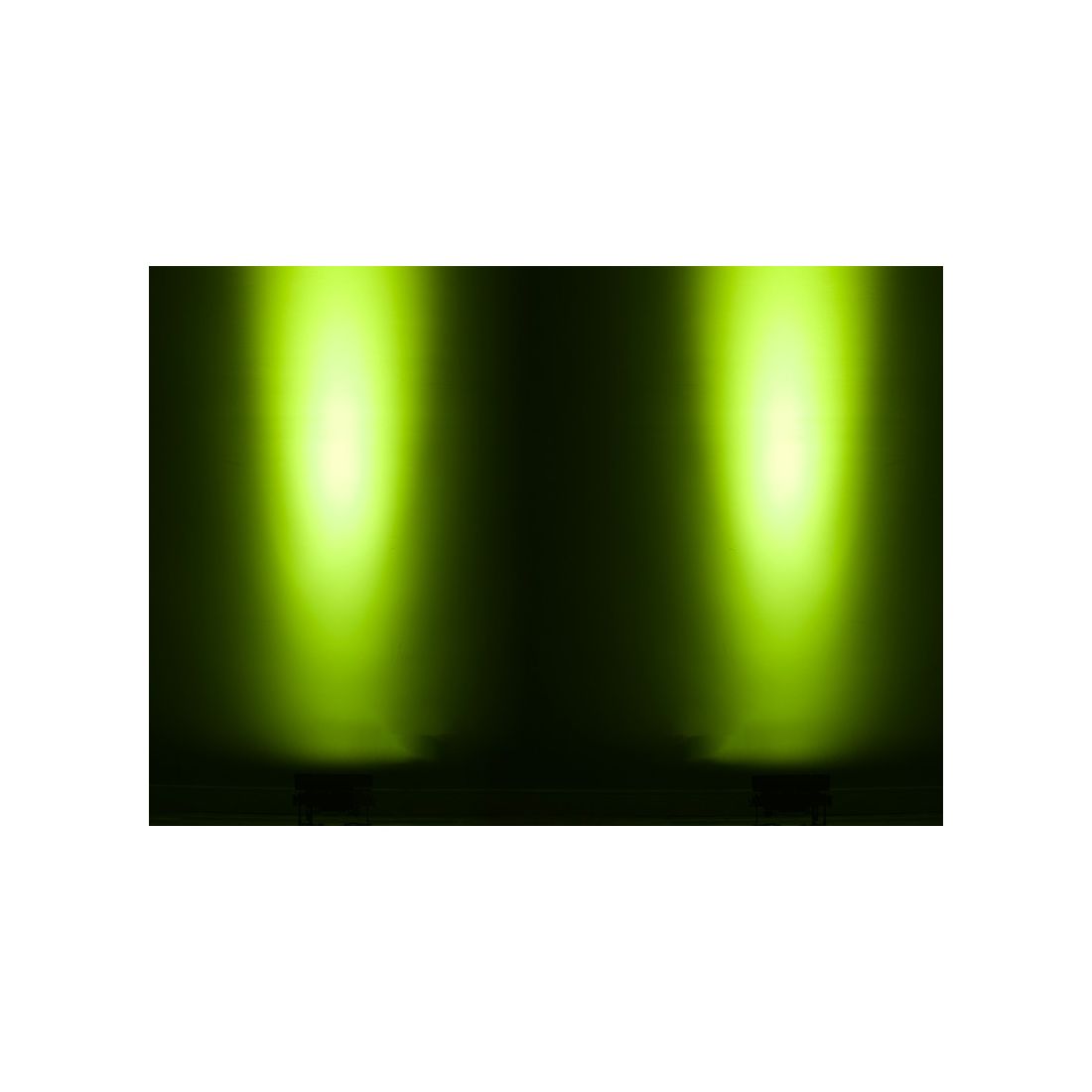 • LED: 32 x 20W RGBL LED's (50,000 hr.)
• Beam Angle: 10.5°, 24.8° with Frost Filter
• Field Angle: 23.7°, 47° with Frost Filter
• LUX: 157,491 @ 1M, 6,300 @ 5M (Full On); 28,363 @ 1M, 1,135 @ 5M (Full On) with Frost Filter
• IP65 rated – protects from dust, sand, moister, water
• All metal construction with black housing
• Includes heavy duty floor / mounting bracket with omega clamp receivers
• Sure-lock locking bracket system (securely locks every 10°)
• Includes magnetic removable filter frame to add a diffusion filter
• Flicker free for film and broadcast
• Linear variable white temperature control from 2700K to 7000K
• Built-in antenna for WiFLY EXR Wireless DMX
• Display: OLED display with function buttons
• Data In/Out: IP65 Locking 5-pin XLR, DMX In/Out (with rubber protective covers over connections)
• Power In/Out: IP65 Locking Power In/Out (with rubber protective covers over connections)
• All Metal Heavy-Duty Housing: Built to last in outdoor or touring applications
• Multiple DMX channel modes
• 8 individually controlled LED zones
• 0-100% Dimming + smooth 16-bit Dimming
• 6 Dim Modes
• 4 Dim Curves
• User settable Dim Speed control
• Control Mode: DMX512, RDM (Remote Device Management)
• LED Refresh Rate: 900Hz - 25Khz
• WiFLY EXR Wireless DMX built-in (2500 ft. / 700M line of sight)
• Power voltage: AC100-240V, 47/63Hz (Multi-voltage)
• Daisy chain up to 2 fixtures max (@ 120V); 6 fixtures max (@ 240V)
• Power consumption: 334W Max
• Dimension: 13.75"x 9" x 6.75" / 350x230x170mm
• Weight: 24.25 lbs. / 11kg.
• Removable frost filter with metal frame
• IP65 locking power cable
Specifications subject to change without notice