Zooming In: ADJ's New Encore LP12Z IP Lime-infused, IP-rated LED Par Has It All
Offering the ultimate utility lighting fixture, ADJ's new Encore LP12Z IP sets a new benchmark for LED par can versatility. It offers huge brightness with lime-infused LEDs, motorized zoom for easy beam angle changes, a robust IP65-rated casing that can be used anywhere, an inbuilt wireless DMX transceiver for ultimate flexibly, and a heavy-duty scissor yoke that can be used either as a hanging bracket or floor stand. All these features wrapped up in one keenly priced luminaire make it ideal for rental, production, and events applications.
The Encore LP12Z IP is powered by twelve potent 20-Watt quad color RGBL LEDs, which deliver a combined output of up to 4400 lumens. 16-bit precision dimming control of the red, green, blue and lime LED chips allow for the creation of a huge gamut of output colors, while easy selection of popular options is facilitated via 64 preset macros. The fixture can also be used to output white light with color temperature variable between 2700K and 6500K. Five additional white light macros allow easy selection of popular choices, however any desired temperature within the range can also be selected using the Linear Color Temperature Control feature.
Inclusion of the Lime LED element boosts CRI and perceived brightness as well as filling in gaps in the color spectrum. The unit's overall CRI is 84.4, while its CRI R9 measures at 77. This increased CRI renders colors more accurately when the fixture is used as a wash to illuminate scenery, décor, or performers, which is particularly important to ensure natural skin tones and enhanced depth.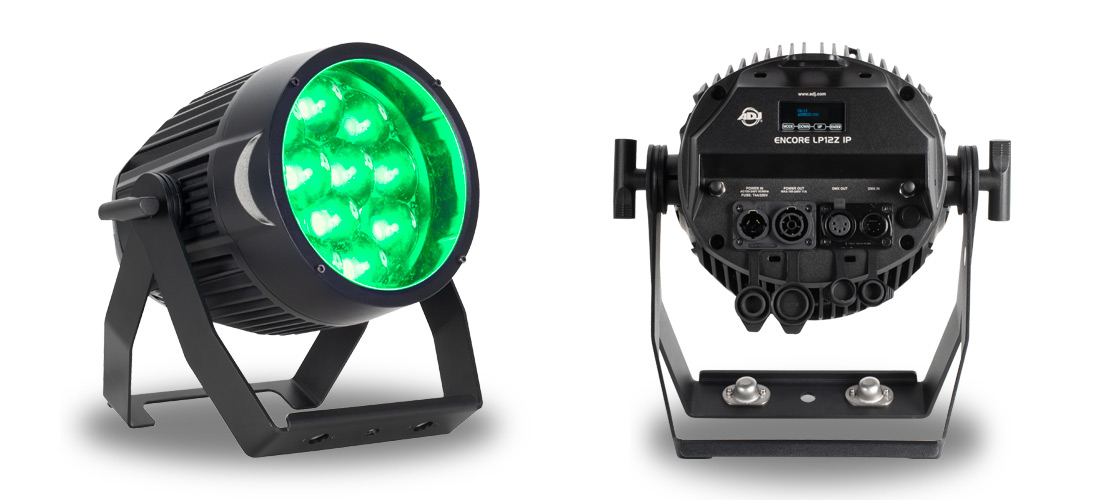 The fixture's motorized zoom function allows its beam angle to be adjusted remotely between 5 and 30-degrees (9 to 50-degree field angle). This allows the same fixture to be used to create a wide wash or narrow pool of light without the need for additional lenses or accessories, making it ideal for use by production companies working on a wide variety of shows and events. It also means that the beam angle can be adjusted remotely during a performance, allowing the same fixture to spotlight a narrow area or provide a wide wash for different scenes in the same production. Linear Zoom control allows selection of precise beam angles while six presets aid quick programming.
With an all-aluminum construction, the Encore LP12Z IP is ready to face the rigors of a life on the road. It has an IP65-rated sealed casing design, which means that it can be safely and reliably used outdoors in any weather conditions, including heavy rain, snow, dust, and wind. It is also protected with a C3 marine grade coating, which provides corrosion resistance even in costal areas with high salinity. Its heavy-duty scissor yoke locks into place securely using a pair of bar handles and can be used as a variable angle floor stand or hanging bracket when attached to a standard omega clamp.
A 32-character backlit LCD display on the rear panel of the fixture provides access to an intuitive menu-driven interface for mode selection and DMX addressing, which is navigated using four touch buttons. In addition to DMX control, with a choice of six modes (6, 9, 10, 12, 15 & 18-channel), the unit also offers three standalone options. Static Color Mode allows quick and easy selection of one of the pre-programmed color macros, RGBL Dimmer Mode allows custom colors to be mixed directly from the menu interface, and Program Mode provides access to seven internal chase patterns, which can be configured with custom speed and fade times.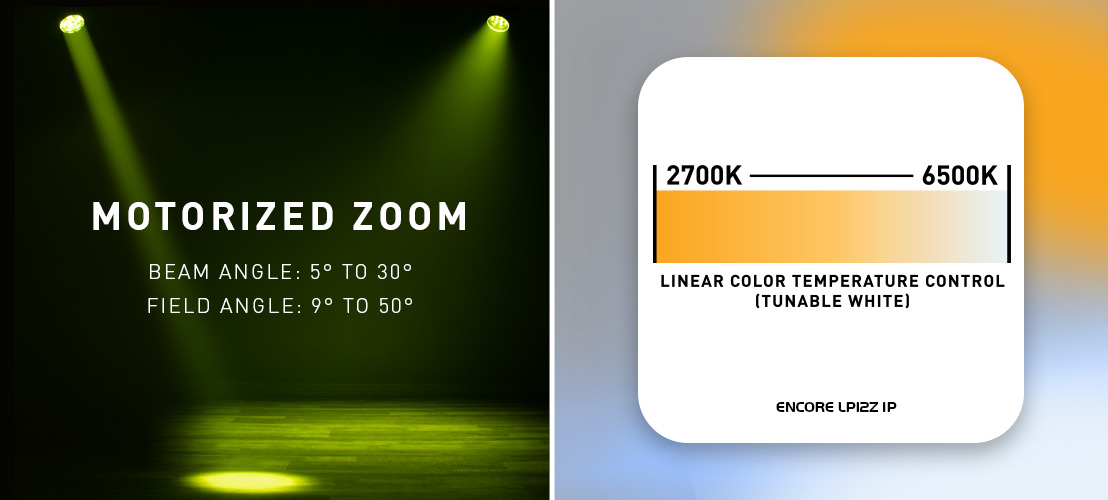 The LP12Z IP can be easily adapted to a user's personal preferences, or the specific requirements of a particular application, using a wide variety of customizable options. These include six selectable dimming modes (Standard, Stage, TV, Architectural, Theatre & Stage 2), four selectable Dimming Curves (Square, Linear, Inverse Square & S-Curve) and adjustable Dimming Speed (between 0.1 and 10 seconds). In addition, the LED Refresh Rate can also be adjusted using 14 presets (ranging from 900Hz to 25,000Hz) to eliminate flicker for broadcast or video capture applications. All these customizable parameters can be altered via DMX as well as directly from the LCD menu interface.
A recessed panel on the rear of the fixture offers protection to the unit's connection sockets, which are all fitted with rubber plugs to provide watertight protection when they are not in use. 5-pin DMX input and output sockets are provided for control, while IP65-rated power input and output sockets allow the electrical supply for multiple units to be 'daisy-chained' from a single outlet. The fixture is also equipped with an in-built ADJ WiFLY EXR extended range wireless transceiver, allowing it to receive a DMX signal wirelessly from a compatible WiFLY transmitter or another WiFLY-equipped fixture over a distance of up to 2500ft. / 700m (line of sight). The fixture also supports the RDM (Remote Device Management) protocol, which allows for remote DMX addressing and the feeding back of fixture operating status information to a compatible DMX control solution.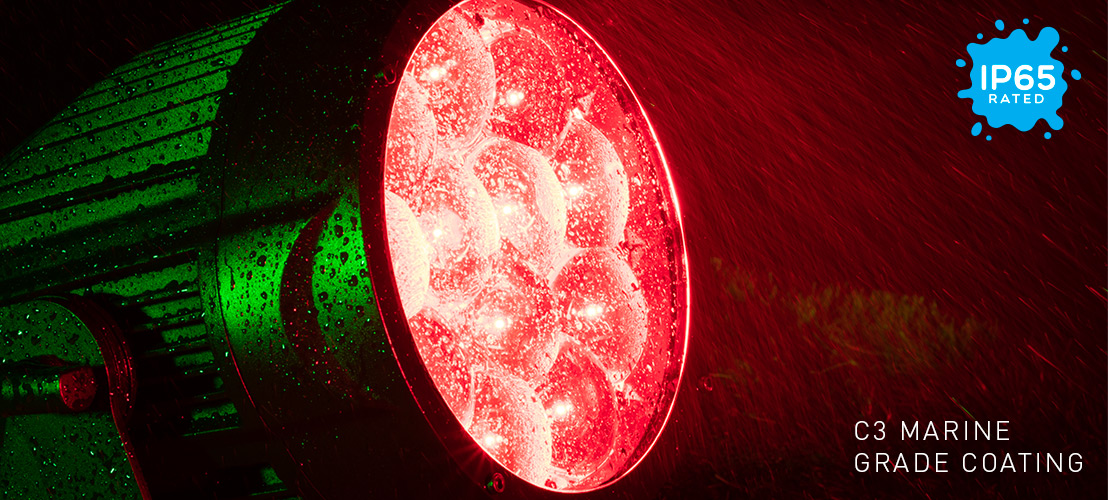 "Par cans remain a staple tool for all lighting professionals, whether used for illuminating stages, décor, or event spaces," comments ADJ USA's Director of Sales, Alfred Gonzales. "The Encore LP12Z IP is the ultimate modern par, offering everything a lighting pro could want from a road ready fixture. Powerful lime-infused LEDs are paired with smooth motorized zoom in a robust IP65-rated casing, while wireless DMX offers the convenience of cable-free control. This makes for a tough and versatile fixture that is ideal for busy rental houses and production companies."
The Encore LP12Z IP will be available at the beginning of September 2023 from ADJ USA, and available October 2023 from ADJ Europe.
To find out more about the Encore LP12Z IP visit: www.adj.eu/encore-lp12z-ip