Introducing ADJ's Powerful and Feature Rich Focus Spot 7Z
ADJ is pleased to announce the immediate availability of the new Focus Spot 7Z automated luminaire. Offering an impressive output of 20,000 Lumens, this feature-packed moving head spot is capable of producing spot and wash effects. It's extensive collection of integrated beam-shaping tools include full CMY + CTO color mixing; an animation wheel; motorized zoom, focus and iris; as well as two rotating GOBO wheels, two rotating prisms, and two frost filters.
The Focus Spot 7Z is the latest addition to ADJ's extensive Focus Series of LED-powered moving head fixtures, which all offer carefully curated feature sets, robust build quality, and excellent value for money. Powered by a potent 420-Watt white light LED engine, which has a native color temperature of 8000K, the unit's high-quality optics ensure a crisp even output. The LED engine offers an impressive 20,000 hour average lifespan, effectively removing the inconvenience and expense of lamp replacements. It also supports smooth 16-bit electronic dimming as well as variable speed strobing from 1 to 20Hz.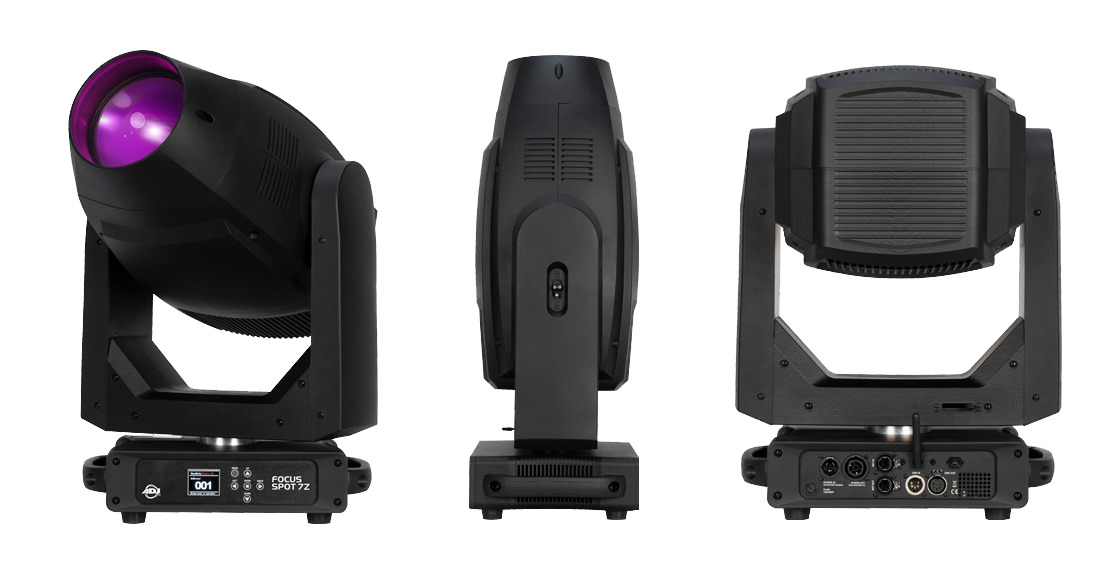 Loaded with features, the Focus Spot 7Z provides Lighting Designers with almost unlimited creative potential. It's feature set begins with CMY color mixing, which allows for a vast selection of colors to match any mood or look a Designer may wish to create. There is also a variable CTO flag, which can be used to select any color temperature of white light output from 2,700K to 8,000K. To aid programming, a selection of popular colors and color temperatures can be easily selected using a selection of pre-programmed macros. In addition, the fixture also incorporates a separate 7-slot (plus open) dichroic color wheel loaded with red, green, blue, orange and dark blue as well as CTB and High CRI filters. The fixture has a native CRI of >73, which can be increased to >85 using the High CRI filter.
Two independent GOBO wheels, each with seven slots plus open, allow for a choice of 14 different patterns. Both wheels feature indexed-rotating GOBOs, which are all replaceable, allowing for the use of custom patterns, text or logos. However, both wheels are supplied pre-loaded with a versatile selection of GOBOs, including a multi-colored option. Some of the supplied patterns are particularly suited to generating aerial effects, while others are intended for creating intricate break-apart projections. The fixture also features an indexed rotating animation wheel, which can be used to generate engaging and complex moving projections, especially when used in conjunction with one of the rotating GOBO options.

The fixture offers a wide motorized zoom range of 6° ~ 48°, allowing for the creation of tight mid-air beam effects as well as wide break-apart pattern projections. It also features two separate variable frost filters. The medium option is ideal for blurring out GOBO patterns to create soft-edged textures, while the heavy option can be used to generate a wash output. In addition, the unit offers motorized focus, to allow for crisp GOBO patterns across variable projection distances, as well as a motorized iris, which can be used to create an even tighter beam.
Completing the fixture's line-up of beam-shaping tools are two independent rotating prisms. Both the 4-facet circular and 6-facet linear options are indexed and the two prisms can be layered to create intricate dynamic effects. The head itself can move through a range of 540° (pan) and 270° (tilt) with 16-bit fine control allowing for smooth movements and precise positioning.

Considering its expansive feature set and explosive output, the Focus Spot 7Z is an easily manageable fixture. It weighs just 23.45kg and has external dimensions of 374mm x 234mm x 630mm [length x width x vertical height]. It features convenient side bar handles as well as both tilt and pan locks to prevent unwanted movement during transportation.
On the front panel of the unit's base is a full color LCD display with corresponding push buttons. These provide access to an intuitive menu interface which allows for easy DMX addressing as well as selection between the unit's various configurable operating parameters. The fixture offers three DMX channel modes (30 / 34 / 45) and is also compatible with the ArtNet and sACN protocols. The LCD screen is reversible by 180°, allowing it to be used conveniently regardless of the fixture's orientation.
Connection sockets for signal and power are located on the rear of the unit's base. Both locking input and output sockets are provided for power, allowing multiple fixtures to be connected to a single outlet. 5-pin input and output sockets are provided for DMX, as well as RJ45 input and output sockets to connect ArtNet and sACN networks, and the fixture is also equipped with ADJ's tried and true WiFLY EXR wireless DMX transceiver built-in.

"The Focus Spot 7Z is an exciting addition to our popular Focus Series," comments ADJ USA's Director of Sales, Alfred Gonzales. "Offering 20,000 Lumens of output combined with a huge collection of beam-shaping features – including CMY+CTO color mixing, an animation wheel, two rotating GOBO wheels, two prism options and two frost filters – it is sure to prove popular with lighting designers. Add to this its rugged build quality, not to mention its excellent value for money, and the fixture is sure to also appeal to rental house and production company owners as well as systems integrators. It is a true lighting powerhouse that is packed with creative potential."
Offering both power and versatility, the Focus Spot 7Z is shipping now from ADJ distributors and dealers worldwide.
To find out more about the Focus Spot 7Z visit: www.adj.eu/focus-spot-7z
For more information contact ADJ:
ADJ USA - Tel: 800-322-6337/+1-323-582-2650 • info@adj.com
ADJ Europe - Tel: +31 (0)45 546 85 00 • info@adj.eu
ADJ Mexico - Tel: +52 (728) 282 7070 • ventas@adj.com
Web: www.adj.com / www.adj.eu