Mirage Q6 Pak Black
Select
New
Key Features
Construction

• Metal Housing
• IP65 Rated for temporary outdoor use
Source

• 4 x 10W RGBA LEDs (Red, Green, Blue & Amber)
• LUX: 9903 @ 2M; 2303 @ 4M
• Lumen: 1185 Lumen (full on)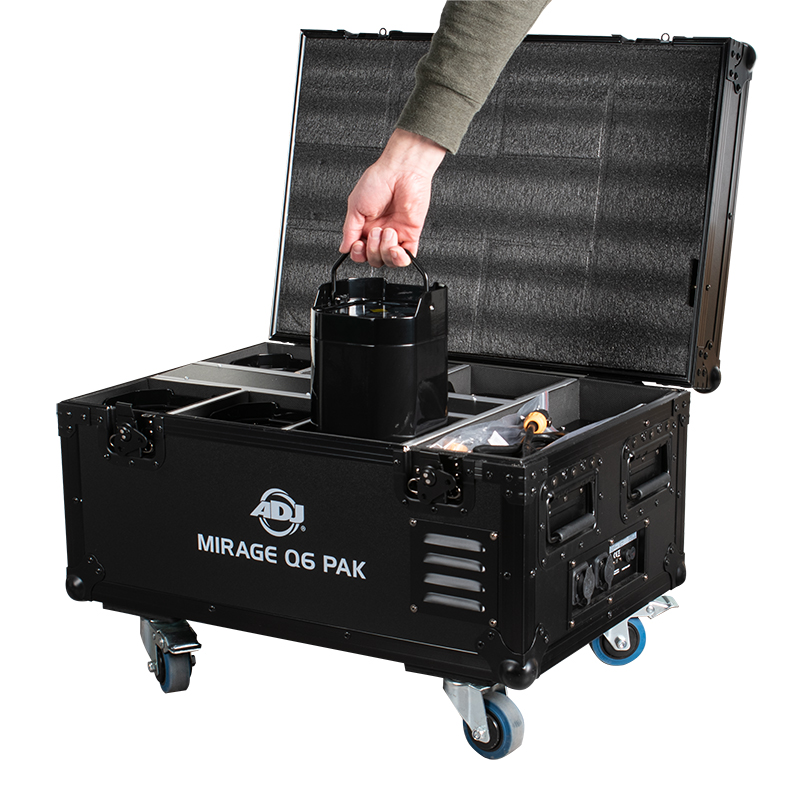 SKU: 1226100422
GTIN: 810087370800
HS-Code: 9405423990
The ADJ Lighting Mirage Q6 Pak Black is an all-in-one event up lighting system with six (6) IP65 rated, for outdoor or indoor use, battery powered fixtures and a durable flight case with an on-board battery charging solution.
Each Mirage Q6 IP Black fixture is powered by four (4) 10W RGBA LEDs that produce a 11-degree beam angle. The fixture is IP65 rated and is waterproof; suitable for temporary use outdoors with protection against the elements (rain, snow, dust and sand). Built-in WiFLY EXR wireless DMX allows for the fixtures to communicate with a lighting controller, also with WiFLY EXR wireless DMX, up to 2,500 feet (700M) away.
Ideal for wall washing, Mirage Q6 IP Black fixtures are all fitted with an integral carry handle and built-in feet which mean they can simply be dropped in place and are ready to go. They also feature a built-in kickstand which allows the beam to be easily angled inwards towards a wall if required. This creates a more intense wash and minimizes light spill onto the ceiling above.
Each fixture has an alarm system with on/off controls. If someone picks up the fixture with the alarm system on, the fixture will make a beeping sound and strobe in red.
The robust battery will operate up to 40 hours on a single color (20 hours changing colors). The battery charge time is 7 hours.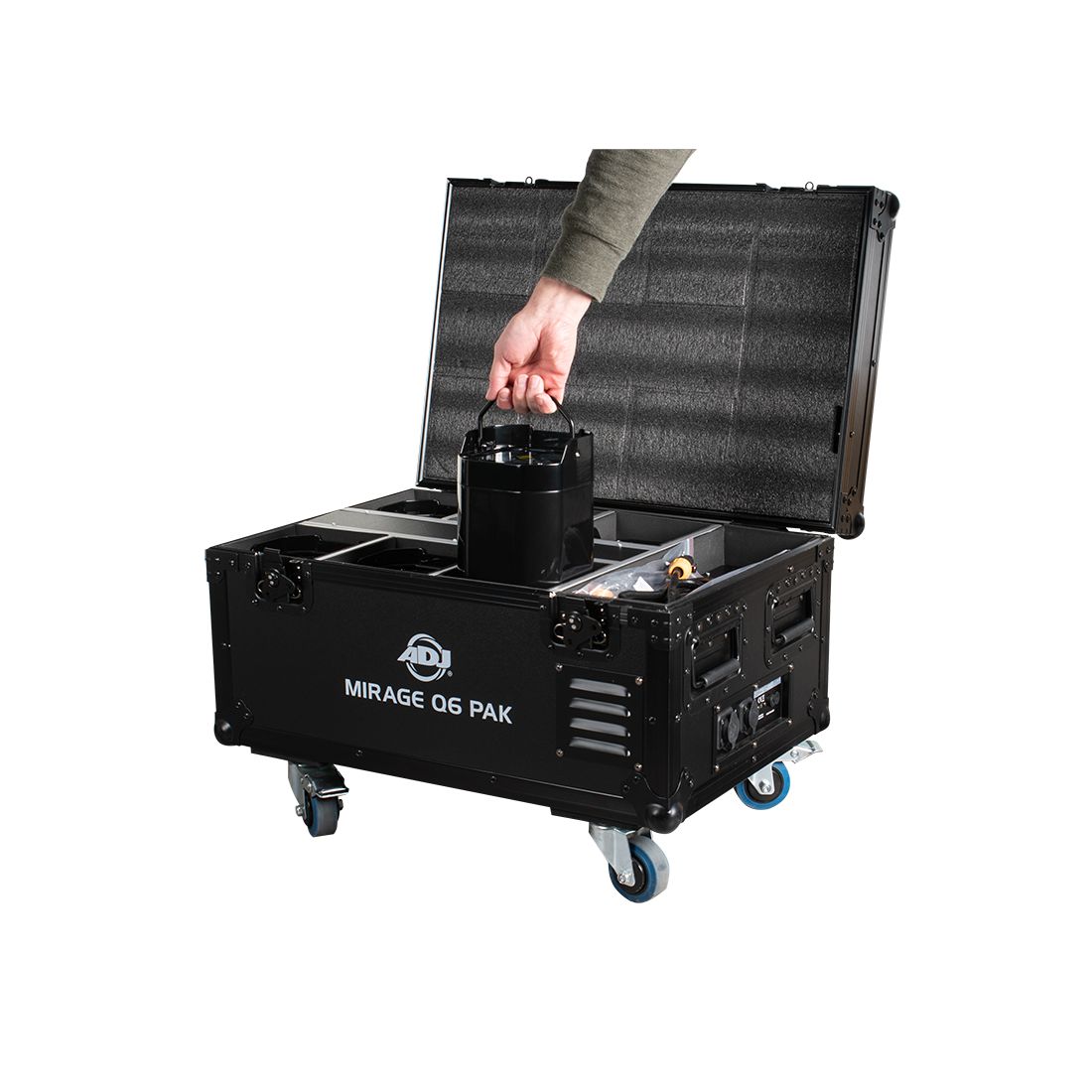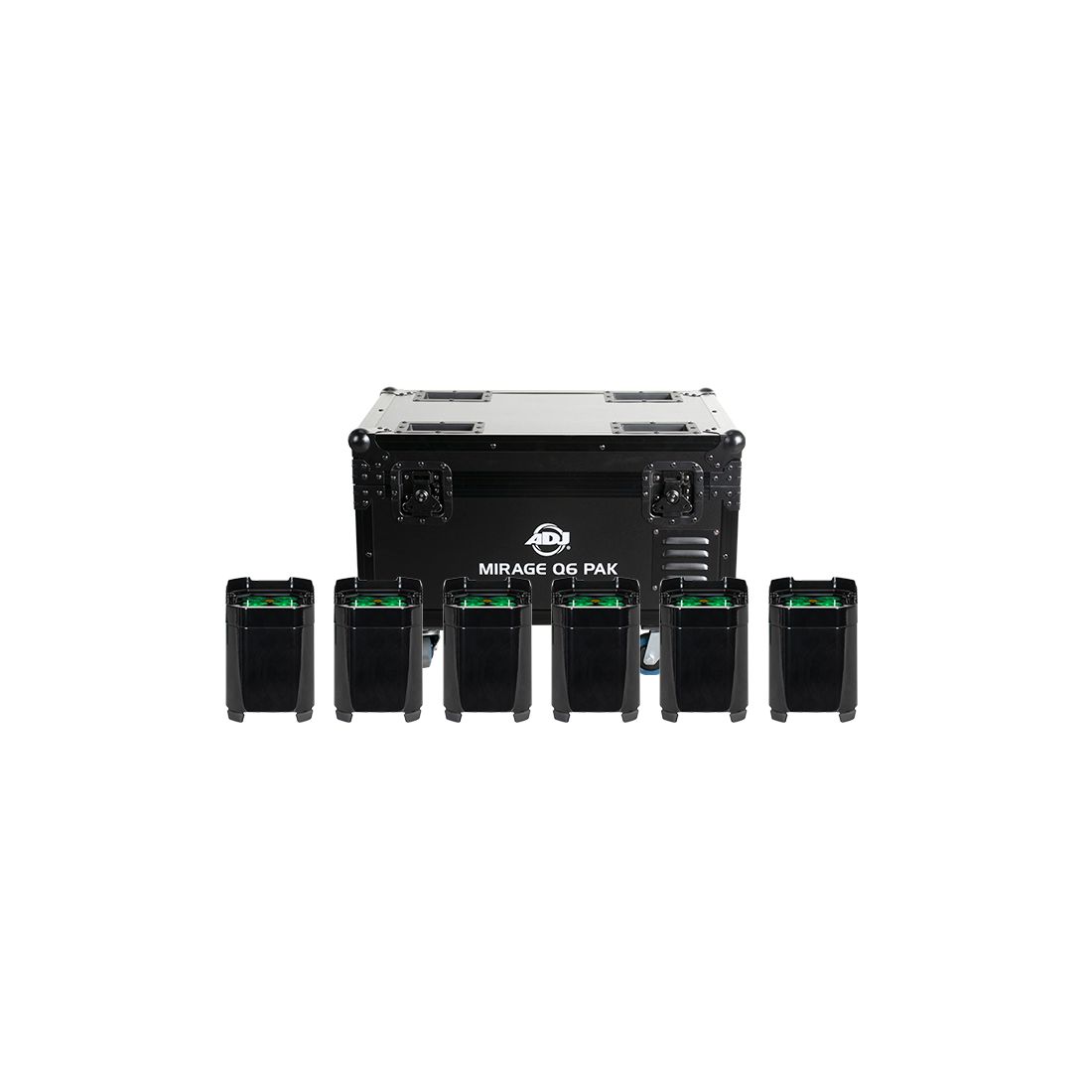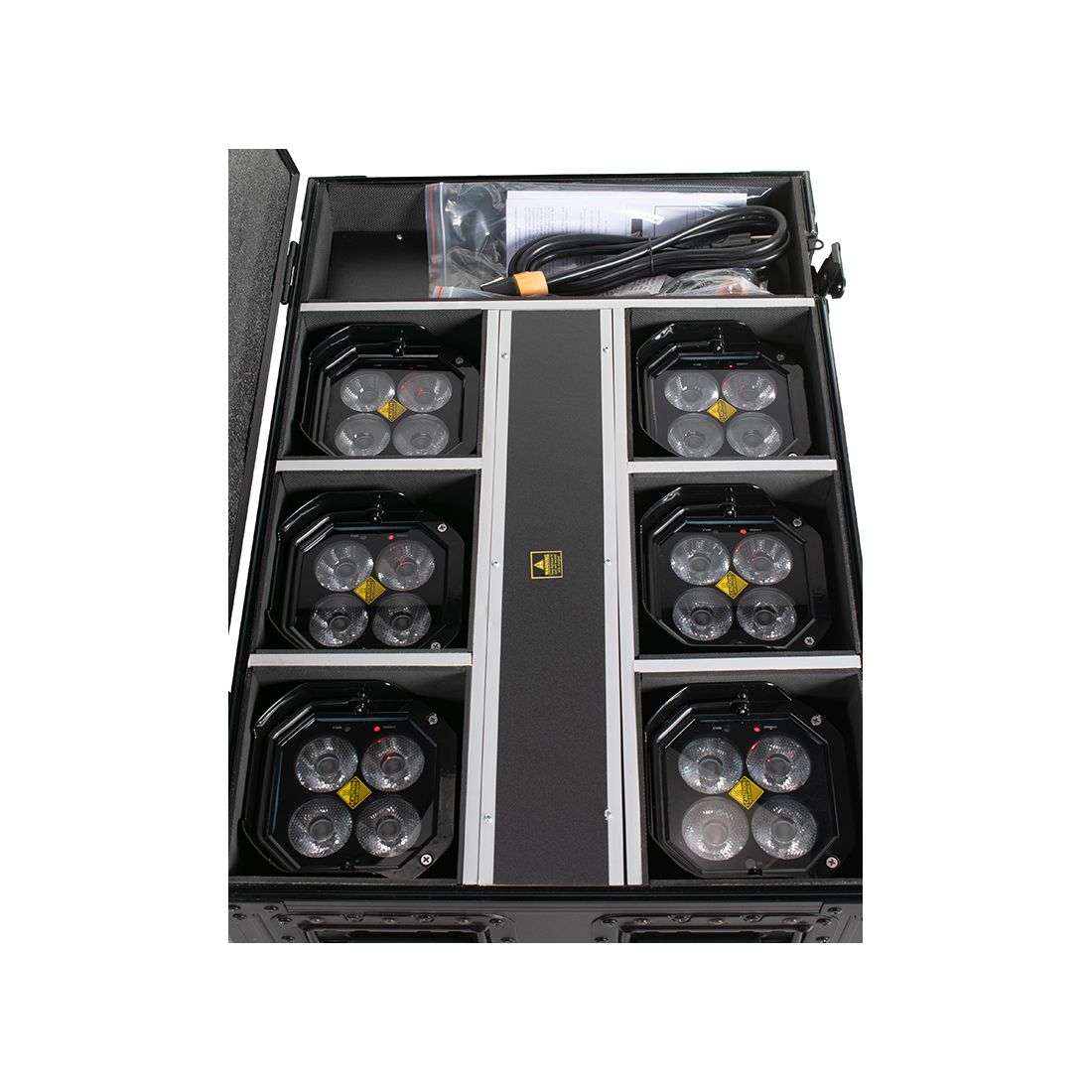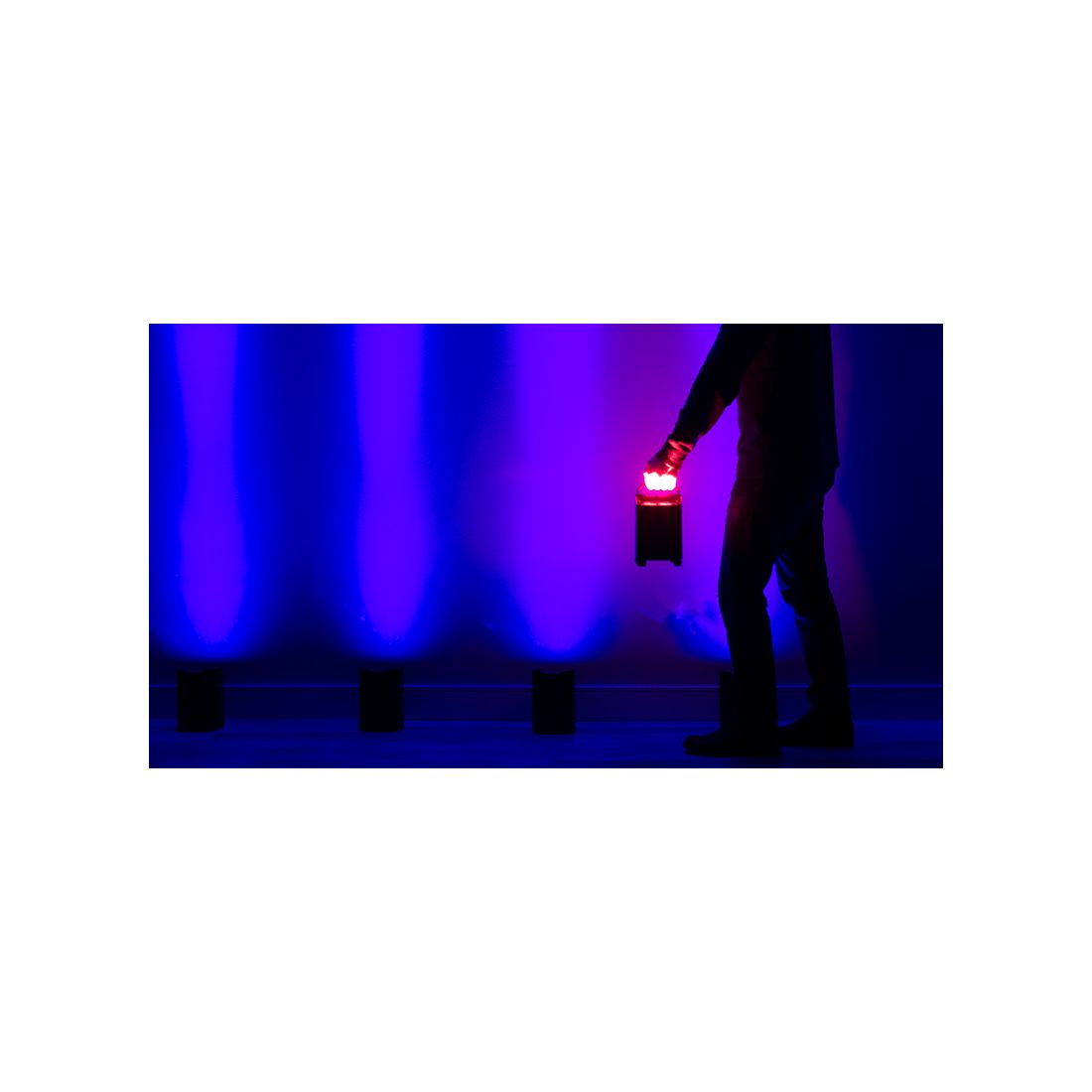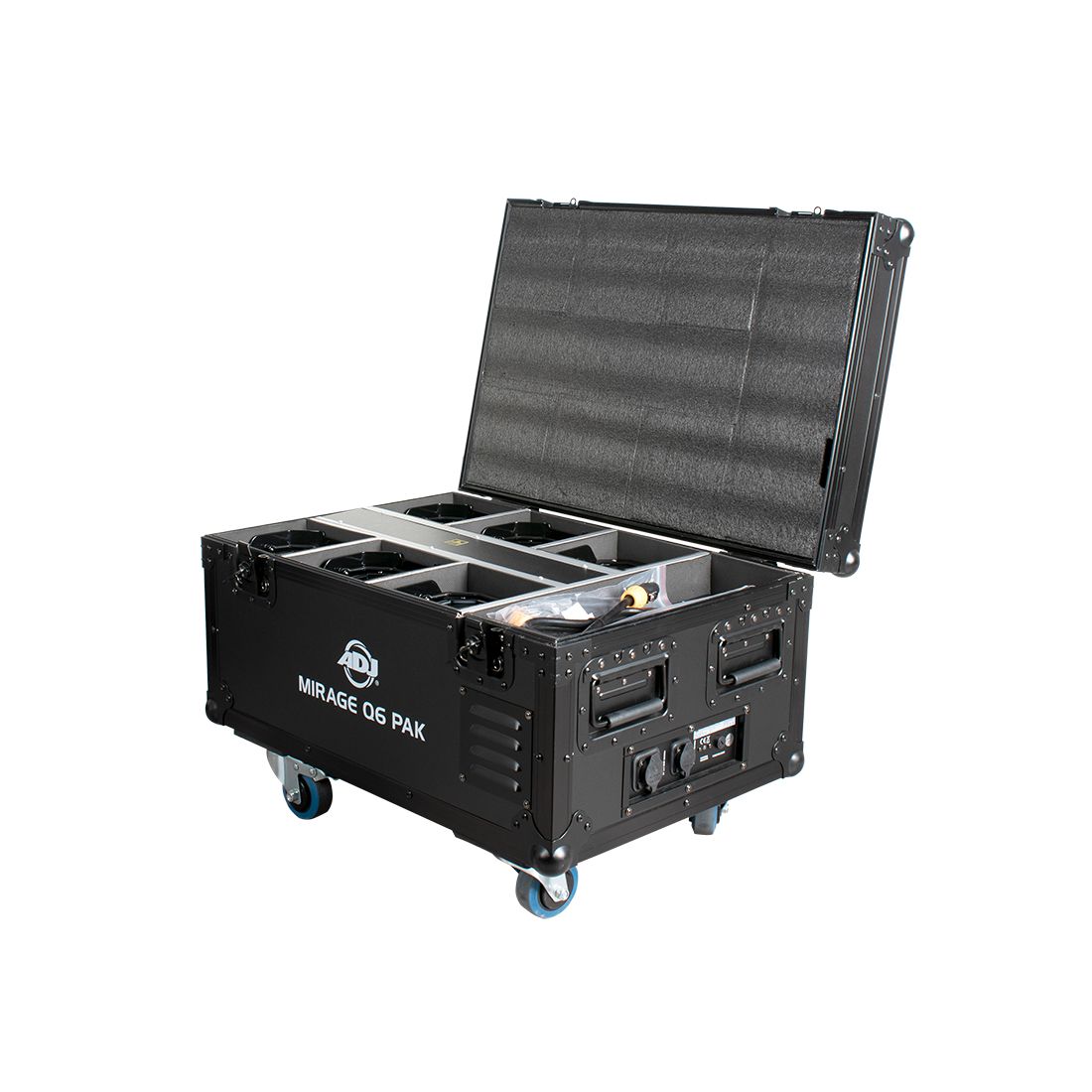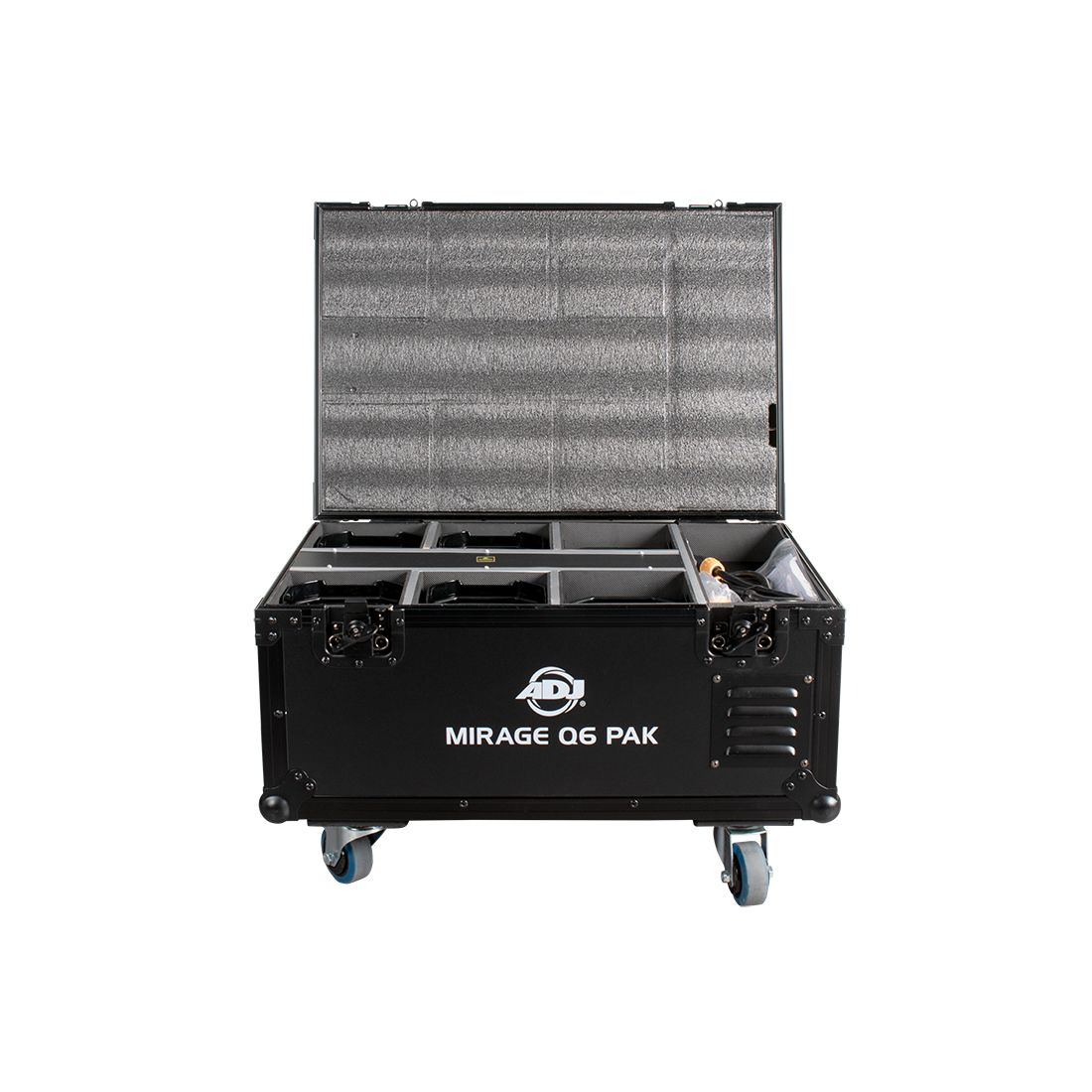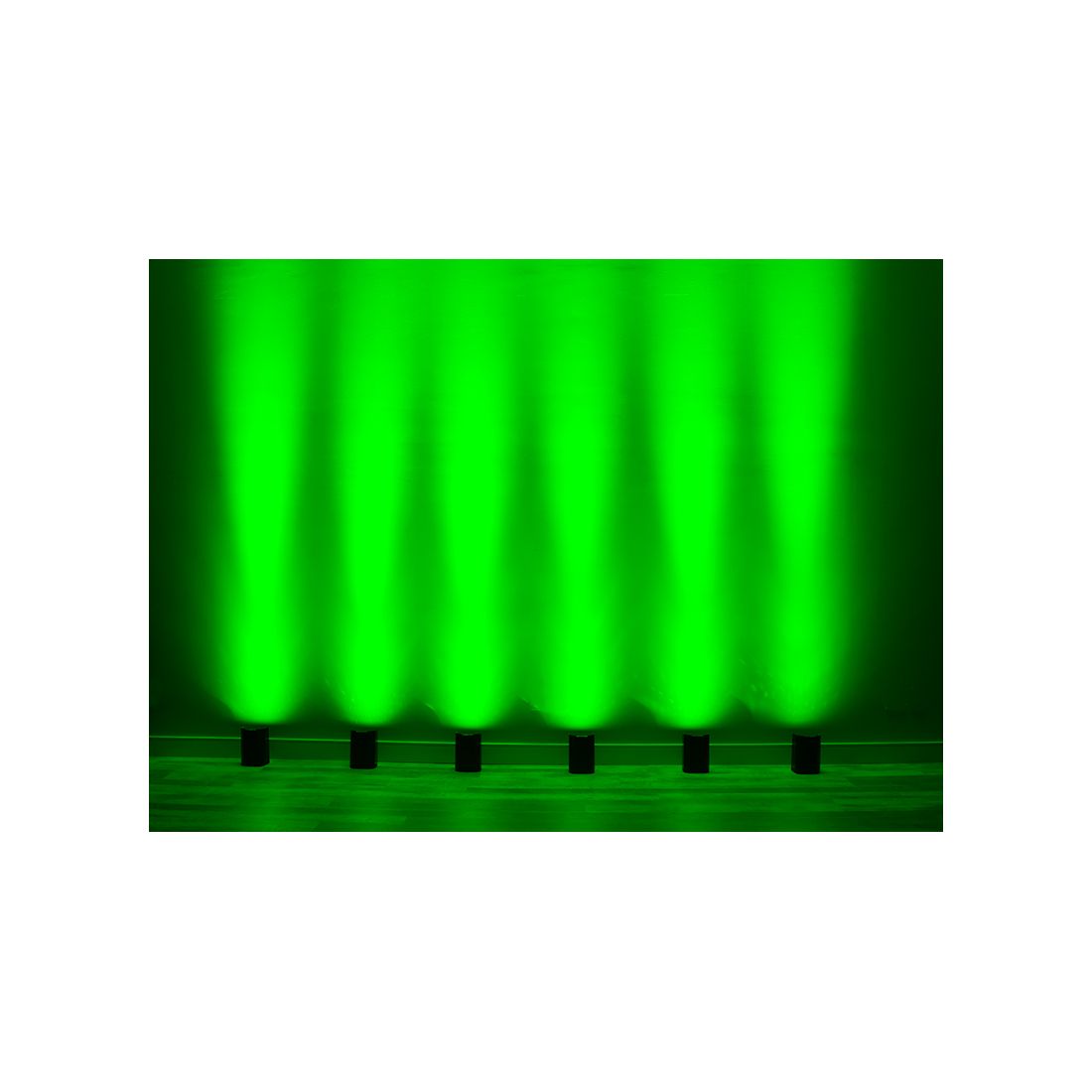 • (6) MIRAGE Q6 IP Black Fixtures
• (1) MIRAGE Q6 FC Flight Case
• (6) MIRAGE Q6 IPCB Charging bases and power supplies
• (1) UC-IR Wireless Infrared Controller
• (1) IP65 Locking Power Cable
• Houses / Transports and Charges (6) MIRAGE Q6 IP™ BLACK fixtures
• Length: 26.4" (671mm)
• Width: 18.2" (461mm)
• Vertical Height: 18.1" (459mm)
• Loaded Weight: 97.9 lbs. (44.4 kg)
• Power Input: AC100VAC~240VAC, 50/60Hz
• IP65 Power Locking Input and Output
• Max Power Consumption: 400 Watts
• Power Draw: 4A
• Charge status indicator
• 14°F to 113°F (-10°C to 45°C)
• 4 x 10-Watt RGBA LEDs (4-in-1 - Red, Green, Blue & Amber)
• 50,000 Hour Average Life*
Environmental Conditions, Power/Voltage, Usage Patterns (On-Off Cycling), Control, and Dimming.
• LUX: 9903 @ 2M; 2303 @ 4M
• Control protocol: WiFLY EXR Wireless DMX
• 11 DMX Channel modes: 4, 6, 7, 8, 9A, 9B, 10, 11, 12, 15 or 18 channels
• Remote control: WiFLY EXR DMX, UC-IR24 (Included)
• 5 Operation modes: RGBA Dimmer Mode; Auto Run Mode (13 programs, & 1 color/fade combo mode); Static Color mode; and Wireless DMX Control
• Contact Charging system. 6x Charging bases and power supplies included in flight case
• IP65 Outdoor Rated
• Built-in kickstand to angle fixture when sitting on the floor
• 4-touch button OLED display on rear panel
• Built-in WiFLY EXR wireless DMX: Up to 2,500 feet (760M) when used with ADJ's WiFLY EXR
• Battery Transceiver
• 64 built-in Color Macros
• Variable RGBA color mixing offers a smooth, seemingly unlimited color palette - Great for Wall Washing!
• LED pulse and strobe effect (0.2Hz-11Hz)
• Flicker Free Operation
• Electronic Dimming: 0 - 100% with 6 dim modes and 4 dim curves
• Run all night – No duty cycle
• Energy Save Mode
• Built-in alarm system with On/Off
• Battery charge indicator on each fixture
• Die-cast aluminum housing
• Battery Type: Fixed lithium battery
• Battery Energy: 162.8WH (Watt Hours)
• Battery Weight: 0.84 kg.
• Battery Voltage: 14.8V
• Battery Capacity: 11000mAh (Typical Capacity)
• Total Lithium Ion Cells: 20 pieces
• Battery Wrap Material: PVC sleeving + highland barley paper
• Battery Charge Time: 7 Hours
• Battery Life: 14 hours (When color changing in Battery Saver Mode 14); 40 hours (When set to a single color in Battery Saver Mode 14) Battery Saver Mode 14 is available in software V1.03>
• Length: 143.2mm
• Width: 143.2mm
• Vertical Height: 211mm
• Weight: 4.01kg
• Power Input: DC 17.3V
• Power Draw: 2A
• 40W Max Power Consumption (each unit)
• -10°C to 45°C
Specifications subject to change without notice