Key Features
Construction

• Metal Housing
• Fan cooling
• Scissor yoke
Optics

• Beam Angle: 25°
• Gel frame for diffusion filters included (diffusion filters optional)
Source

• 18x 12W RGBWA+UV LEDs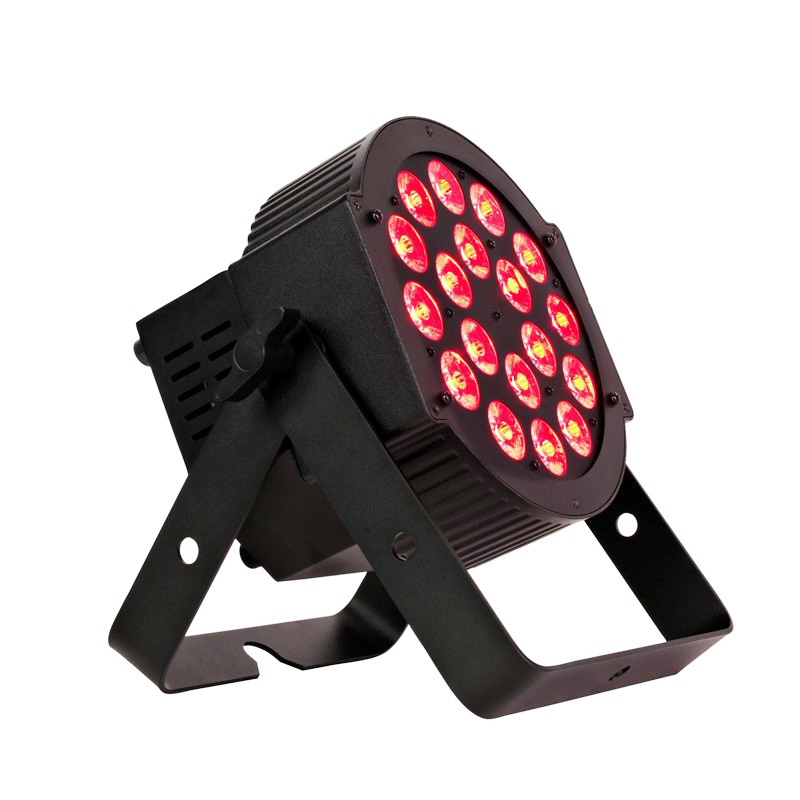 SKU: 1226100333
GTIN: 819730019950
HS-Code: 9405423990
The ADJ 18P Hex is an all metal, powerful 216W LED Par fixture with 18x 12-Watt, 6-IN-1 HEX LEDs. With a 25-degree beam angle, users may produce wide washes with smooth color mixing from 63 built-in color macros utilizing red, green, blue, amber, white and UV LEDs. Not only is this LED Par great for lighting stages, but with its patent pending, intelligently designed, power and DMX connectors, it's great for uplighting large venue.
18P HEX professional features include: 4 DMX modes (6, 7, 8 and 12), 5 operational modes, 5 dimming curves, flicker free operation and a 4-Button DMX menu with digital display. Daisy-chain up to 10 units (110V) or 12 units (240V) together via the fixtures built-in Locking Power In/Out power connectors.
The 18P HEX is compatible with the Dotz Par RF easy-to-use wireless RF remote (Sold Separately). Alternatively the fixture may be operated via a DMX controller or the units built-in programs. It comes with a metal gel frame in which a beam diffuser (sold separately) may be used to soften the beam.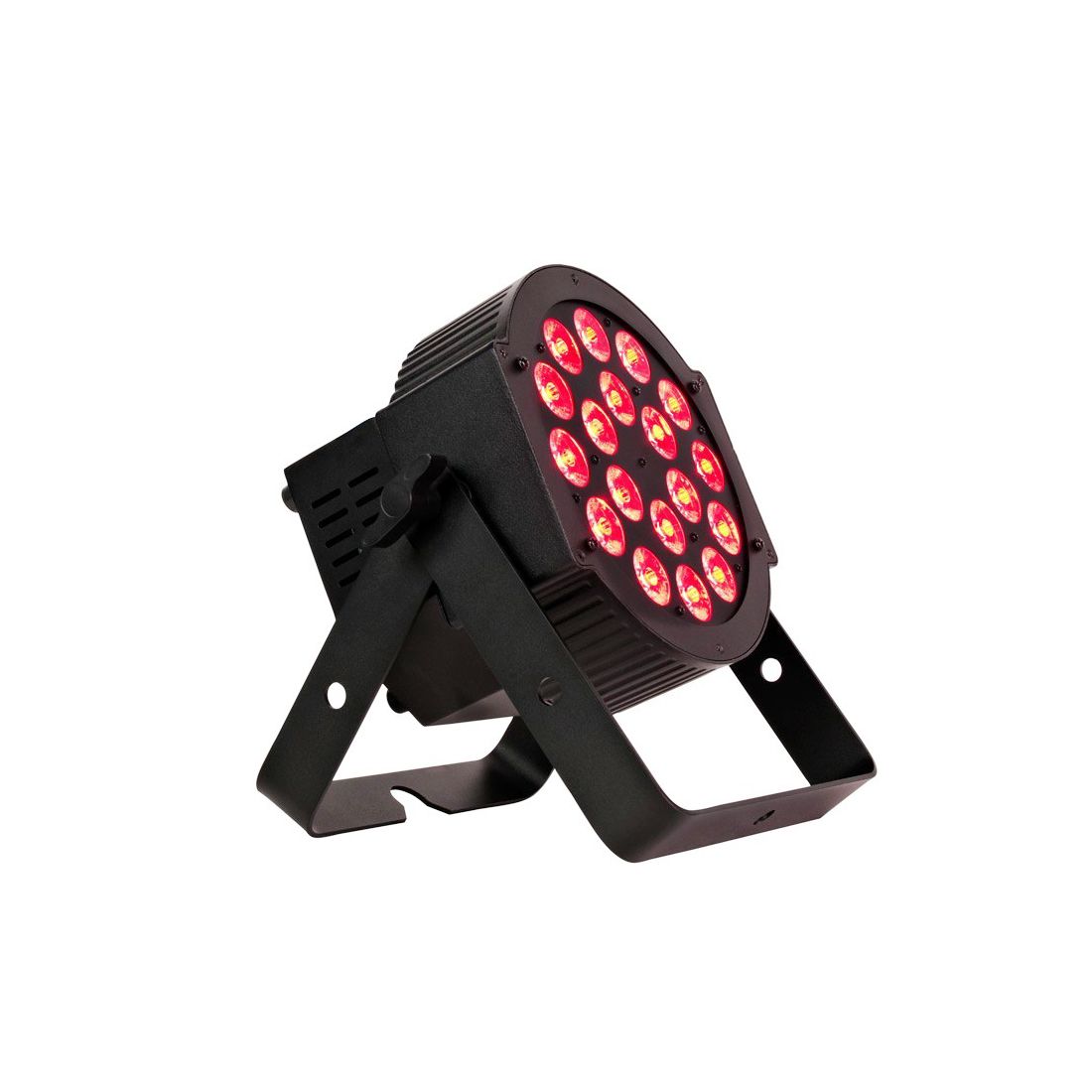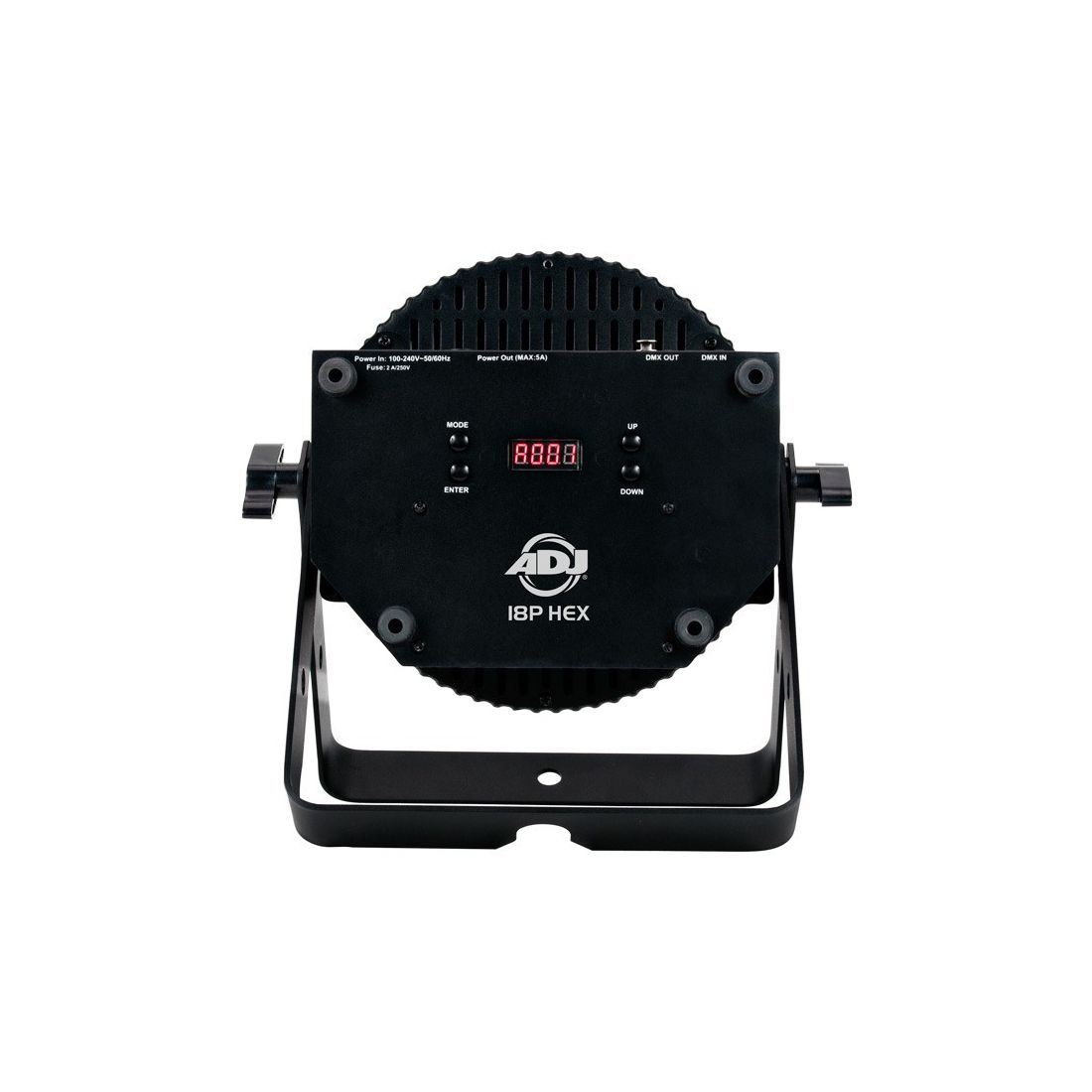 • Light Source: 18 RGBWA+UV LEDs (Red, Green, Blue, White, Amber & UV LED)
• Individual LED wattage : 12W
• Average LED lifetime :approximately 50,000 hrs.
• Beam Angle: 25 degrees
• Gel frame for diffusion filters included (optional diffusion filters)
• 5 Operational modes: Static Color Mode, RGBWA+UV Dimmer Mode, Program Mode, Sound Active Mode and
DMX Control
• 4 DMX Modes: 6, 7, 8 & 12-channel
• Electronic Dimming: 0 - 100%
• 63 built-in Color Macros
• 7 built-in Programs, Sound Active Mode
• 5 selectable Dim Curves (Standard, Stage, TV, Architectural, Theatre)
• Optional Dotz PAR RF Remote available (order code 1223200035)
• LED pulse and strobe effect
• 4-button, DMX digital display on rear panel
• Metal Housing
• Low Noise fan cooling
• Scissor yoke
• Multivoltage 100-240V 50/60Hz
• Power Consumption: 154W
• Sideways 3-pin Locking DMX connectors
• Sideways Locking Power In/Out connections
• Dimensions (LxWxH): 304 x 174,8 x 330,4mm
• Weight: 5,9 kg.
Specifications subject to change without notice