Light The Night Cable Free With ADJ's Versatile New Element H6 Pak Wireless LED Uplighting Solution
Following the success of ADJ's Mirage Q6 IP wireless LED uplighting fixture, the company is pleased to announce the expansion of its range with the new Element H IP. Offering many of the same features as the Mirage Q6 – including a custom road case with built-in charging – the new Element H IP features 6-in-1 color mixing LEDs and comes in at a lower price point that will be attractive to many mobile entertainment and event production companies.
The Element H IP is supplied in sets of six, together with an UCIR24 remote control and durable flight case with on-board battery charging, as the Element H6 Pak. Designed to provide a versatile and practical all-in-one solution for uplighting of parties, events and activities, the system allows for quick and easy deployment of a truly wireless lighting system. The individual units are ideal for uplighting of structures, foliage, or décor wherever it is required, indoors or outside, in any weather conditions, and without the need to run power or control cables.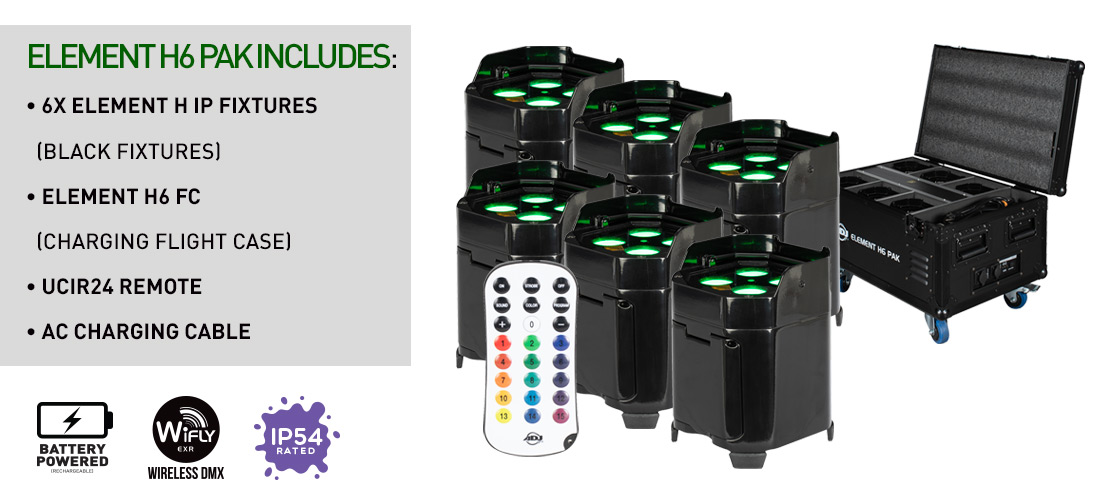 Each Element H IP luminaire features four 20-Watt hex color LEDs, which each combine red, green, blue, amber, white and UV elements that can be dimmed independently. This allows for a huge gamut of colors to be mixed, from radiant primaries to subtle pastels, including vibrant UV-infused purples and pinks. In addition to full RGBWA+UV color mixing, the fixture also features 63 built-in color macros that aid quick programming by making it easy to instantly select popular options. Each LED has a life expectancy of approximately 50,000 hours, which essentially removes the need for lamp replacements, and the fixture also offers pulse and strobe effects with speeds variable between 0.2Hz and 11Hz.
A powerful 4000mAh lithium-ion battery is incorporated within each Element H IP unit. This will deliver approximately six hours of standard operation (normal mode) or up to 12 hours using the 'Saver' energy saving mode. Just 6 hours of charging time is then all that is required to return the battery to full capacity. The fixture delivers an output of 1117 lux (measured at 2M) and has a concise beam angle of 17.6° (28.7° field angle), which is ideal for stage uplighting and wall washing.
Each Element H IP fixture is also equipped with an ADJ's WiFLY EXR wireless DMX transceiver. This allows the unit to both receive and transmit a DMX control signal wirelessly from/to other compatible ADJ WiFLY transmitters and fixtures. The fixture offers a choice of seven DMX channel modes (ranging from 6 to 17-channels) allowing customization depending on the level of control required and the number of channels available for a particular application. In addition, the fixtures' wireless capability can also be utilized to setup multiple units in a primary/secondary arrangement to run one of the 13 inbuilt color chase patterns without the need for a DMX controller.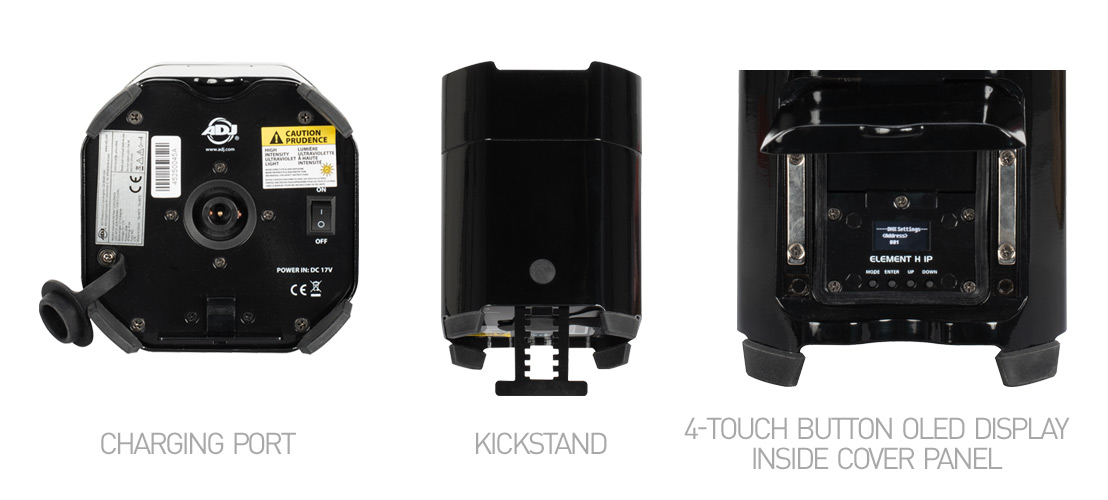 Mode selection, DMX addressing, and configuration of the unit's operating parameters are facilitated by an OLED display screen which provides an intuitive menu-driven interface navigated via four touch buttons. This is hidden beneath a retractable cover to improve the aesthetic appearance of the fixture while in operation and also to discourage tampering.
With compact dimensions of 140mm x 140mm x 190.5mm (L x W x H) and a weight of just 2.4kg, the Element H IP is an extremely compact and easily portable fixture. However, despite its low weight and small size, the fixture has a rugged metal construction and a sealed design rated to the IP54 standard. This means that it is capable of withstanding the rigors of a life on the road and can be used both indoors and outside even in the rain.
A retractable handle folds out from the top of the unit for carrying and is then hidden by a built-in snoot. The fixture features integral feet, which means that it can simply sit directly on the ground for easy-to-setup, but highly effective, up-lighting of walls or backdrops. Alternatively, it also features a built-in kickstand which can be used to angle the fixture in towards a wall for tighter coverage. A series of notches at preset angles (between 90° and 65°) make it quick and simple to set multiple fixtures to precisely the same position. Finally, a mounting point on the rear of the fixture and a safety cable eyelet on one of the feet allow a hanging bracket to be attached so that it can be hung from a truss for downlighting or stage illumination.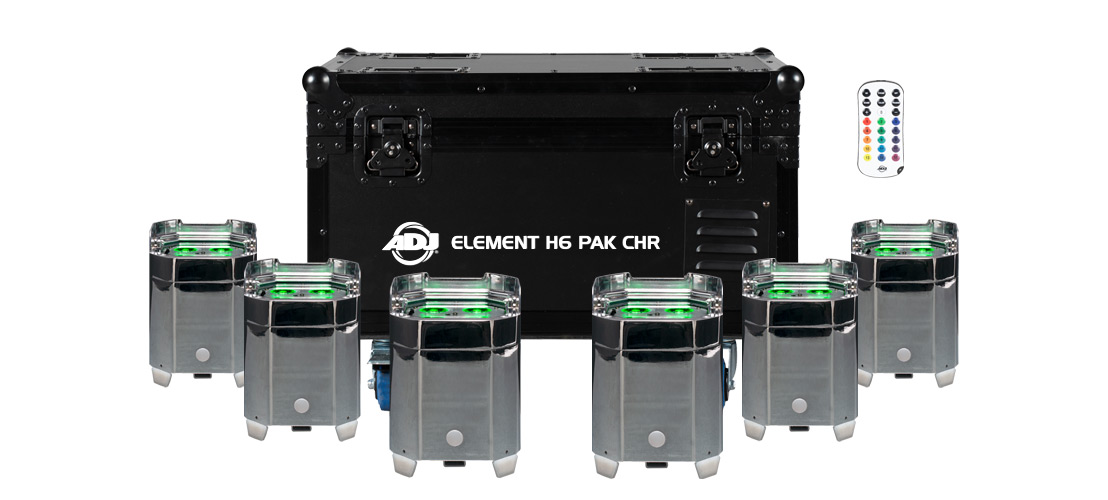 "The Mirage Q6 continues to be a big seller for ADJ," comments ADJ USA's Director of Sales, Alfred Gonzales, "offering what we believe to be the most comprehensive touring grade wireless uplighting system on the market today. However, we are aware of a desire within the mobile entertainment and event production segment of our market for a more affordable option that still offers the versatility of wireless DMX, battery power and an IP-rated casing. Combining vibrant color mixing output with good battery capacity and a robust IP54-rated shell, the Element H IP ticks all these boxes. In addition, packaged together as the Element H6 Pak in a rugged flight case equipped with our innovative internal charging system, it offers a streamlined workflow designed to make the lives of busy event professionals easier."
The Element H6 Pak is shipping now worldwide, while the chrome-finished Element H6 Pak Chr will be available from ADJ USA at the end of April and from ADJ Europe at the end of May.

For more information contact ADJ:
ADJ USA - Tel: 800-322-6337/+1-323-582-2650 • info@adj.com
ADJ Europe - Tel: +31 (0)45 546 85 00 • info@adj.eu
ADJ Mexico - Tel: +52 (728) 282 7070 • ventas@adj.com
Web: www.adj.com / www.adj.eu