ADJ's Jolt Series: Unique Looks, Intense Effects and Ultimate Versatility
Offering lighting designers huge creative potential, the ADJ Jolt Series comprises a collection of LED wash fixtures that each feature a central strip of cool white strobe LEDs surrounded on both sides by an array of RGB color mixing LEDs. These versatile luminaires can be used to create a variety of effects, including intense strobe and blinder hits, vibrant color washes, and eye-catching animated chase patterns. With tough metal casings, they are ideal both for production and installation applications where they can be used independently or deployed in multiples to create high impact effects in venues and on stages of all sizes.
The white LEDs are extremely bright and, when combined in multiples on the face of each Jolt fixture, generate truly intense strobe effects. All three units offer variable speed strobing as well as various effect options, including pulse and random. The white LEDs can also be used without strobing to create a powerful static wash of white light that is ideal for use as an audience blinder. A wide variety of vibrant color options can be achieved using the RGB LEDs through individual dimming control of the independent red, green, and blue elements. Used as single-color sources, the fixtures are capable of generating potent washes that cover a large area. Alternatively, through use of the zone control function, each independent block of LEDs can be controlled separately to allow for the creation of dynamic chases and other animated pattern effects.

The Jolt Bar FX features a central strip of 112 x 5-Watt cool white SMD LEDs, surrounded on both sides by a total of 448 x 0.3W RGB color mixing SMD LEDs. Both types of LED are grouped into independently controllable zones (16 white and 32 color), which means the unit can also be used to generate strobe chases and colored 'eye candy' animated pattern effects. Measuring 1m in length (39.4"), the fixture is compact in its other dimensions (4.2" / 107mm and 4.8" / 123mm) and weighs an easily manageable 16.5lbs. / 7.5kg. It features two 180-degree variable angle brackets, which can be used to set the unit directly onto the floor of a stage or attach clamps to facilitate truss mounting either vertically or horizontally. Each fixture is also supplied with a metal bracket that can be used to link together multiple units to create seamless runs of LEDs.

The Jolt Panel FX is a complementary panel LED lighting fixture that incorporates 48 x 5-Watt cool white SMD LEDs, surrounded on both sides by a total of 800 x 0.3W RGB SMD LEDs. Again, both types of LED are grouped into independently controllable zones (6 white and 40 color), allowing for the creation of eye-catching animated chase patterns. With dimensions of 6.3" (159.5mm) x 15.95" (405mm) x 9.85" (250.5mm) [L x W x H], the fixture is big enough to assert its presence within a lighting rig but compact enough to be easily setup and transported. It weighs in at 14.1 lbs. / 6.4kg and is supplied with both a variable angle yoke, which locks into place securely using two large plastic handles, and an Omega bracket, which can attach directly to the rear of the fixture, making it easy to mount directly to a rigging pipe or truss.

The Jolt 300 is both the original Jolt fixture and also the most compact. It incorporates 144 x 1.5W RGB SMD color mixing LEDs and 144 x 0.5W white SMD LEDs into a unit that weighs just 10.5lbs / 4.75kg and measures only 15.3" (389mm) x 5.63" (143mm) x 8.38" (213mm) [L x W x H]. Just like the larger Jolt Panel FX, it offers the versatility of both a robust variable-angle hanging bracket and a rear Omega bracket attachment.
All three fixtures feature 5-pin DMX input and output sockets for control as well as locking power input and output sockets that can be used to 'daisy chain' the power supply for multiple fixtures from a single outlet. In addition, the Jolt 300 also offers 3-pin DMX input and output sockets. On every model, the power and data input sockets are grouped at one side of the back panel, while the output sockets are positioned at the other, to aid with logical and neat cabling. The fixtures are also fitted with a USB port to allow quick and simple loading of future firmware updates.
Each Jolt model offers a variety of channel modes, which can be selected appropriately for different applications depending on the availability of DMX channels and the required level of control. The Jolt Panel FX and Jolt 300 both supports eight modes (6, 9, 13, 18, 36, 41, 126 and 141 channels for the Jolt Panel FX) and (4, 8, 10, 10a, 12, 15, 18 and 18a for the Jolt 300), while the Jolt Bar FX boasts eleven options (6, 9, 13, 16, 18, 32, 38, 42, 64, 112 and 126 channels). All three fixtures offer multiple levels of zone control, ranging from simple separation of the white and RGB LEDs up to full independent color mixing / dimming control for each individual zone. In addition, to aid quick programming – and for situations where DMX channels are limited – the fixtures are supplied with pre-programmed color macros and chase patterns that can be selected remotely via DMX to make full use of the zone control potential without the need for custom programming.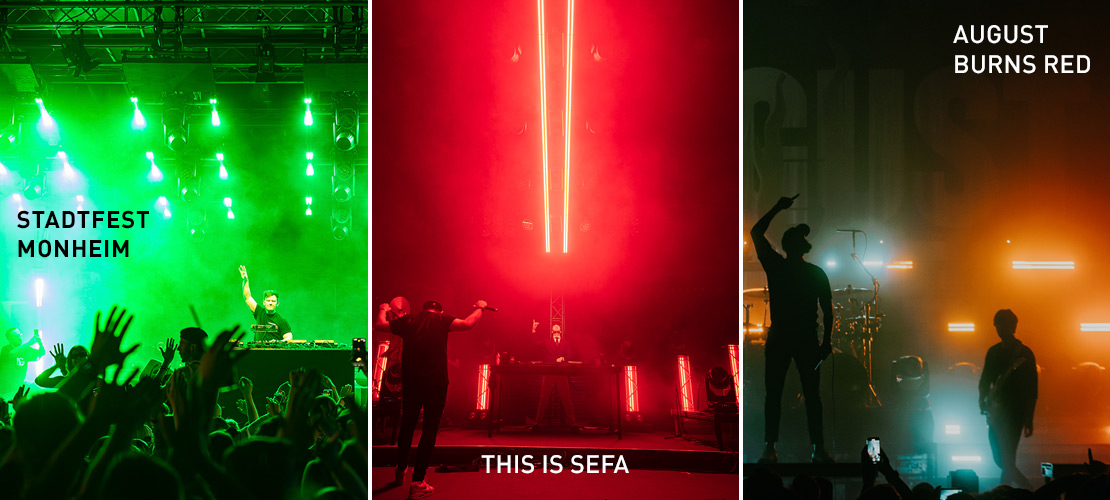 "The Jolt Series has proven extremely popular, especially with lighting designers who love the fixture's intense output and multifunctional operation," comments ADJ USA's Director of Sales, Alfred Gonzales. "Their versatility means they can be utilized by everyone from LDs working on large tours and festival stages to small event companies. With flexible mounting options, these fixtures make great effects whether deployed vertically or horizontally. We've seen pairs of fixtures used to great effect on small stages, 32+ units deployed to create eye-catching backdrops to large concert tours, and everything in between. The fixtures are also popular with systems integrators, serving as the ultimate modern club strobes. However, their appeal extends beyond nightclubs. Thanks to their flexibility, they are also ideal for concert halls as well as churches, roller rinks, bowling alleys and all kinds of entertainment venues. Providing the functionality of a strobe, blinder, color wash and eye candy effect all rolled into one, they allow a single fixture to cover multiple roles within a rig, which allows efficient use of both space and budget."
Click here to visit the Jolt Bar FX page: https://www.adj.eu/jolt-bar-fx
Click here to visit the Jolt Panel FX page: https://www.adj.eu/jolt-panel-fx
Click here to visit the Jolt 300 page: https://www.adj.eu/jolt-300