Element H6 Pak
Select
New
Key Features
Electrical

• Battery Life: 6 Hours in Normal mode and 12 hours in Energy save mode(single color)
Construction

• IP54 Rated: partial protection from dust and water splashes
Control

• Built-in WiFly EXR wireless DMX with signal LED indicator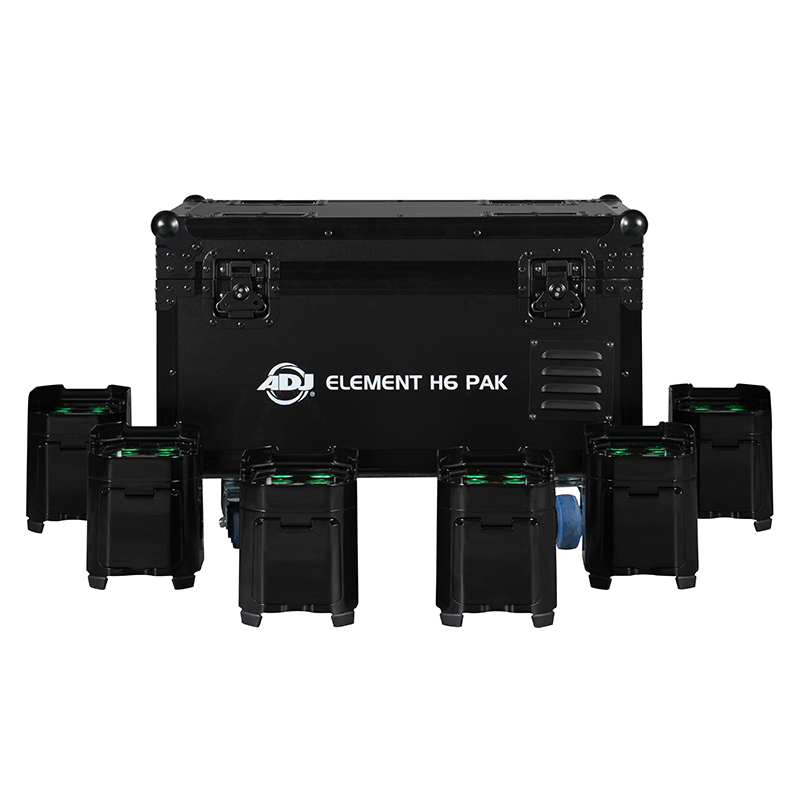 SKU: 1226100424
HS-Code: 9405423990
The ADJ Lighting Element H6 Pak is a beneficial all-in-one event up lighting system that offers a powerful and versatile up lighting solution for indoor and temporary outdoor events. This package includes six IP54-rated, battery-powered, wireless DMX, black fixtures that come in a durable flight case with an on-board battery charging solution. It also comes with one UCIR24 wireless remote for easy control.
The Element H6 Pak fixtures boast four 20-watt RGBAW+UV LEDs with a life expectancy rated at 50,000 hours. With a beam angle of 17.6° and a field angle of 28.7°, these fixtures produce a LUX output of 1117 @ 2M and 298 @ 4M, making them perfect for stage up lighting and wall washing.
In addition to its impressive optical features, the Element H6 Pak offers a range of convenient and easy-to-use features. It includes a built-in kickstand to angle the fixture when placed on the floor, a 4-touch button OLED display inside cover panel, and a battery charge indicator on each fixture.
The wireless DMX control protocol allows you to control your lighting system from anywhere in the room, and the 63 built-in color macros make it easy to create stunning lighting effects. With its variable RGBAW+UV color mixing and smooth dimming capabilities, the Element H6 Pak offers a seemingly unlimited color palette.
This lighting system also boasts an energy-saving mode and a battery life of up to 6 hours in normal mode and 12 hours in energy-saving mode (single color). Each fixtures is compact and lightweight and comes in a robust IP54-rated casing with partial protection from dust and water splashes. Each fixture has a weight of 5.3 lbs (2.4kg), making it easy to transport and set up for your event.
Overall, the ADJ Lighting Element H6 Pak is an exceptional lighting system that offers power, versatility, and convenience for all your event lighting needs. With its impressive features and durable design, this lighting system is perfect for event producers, and anyone looking to add some excitement and style to their event.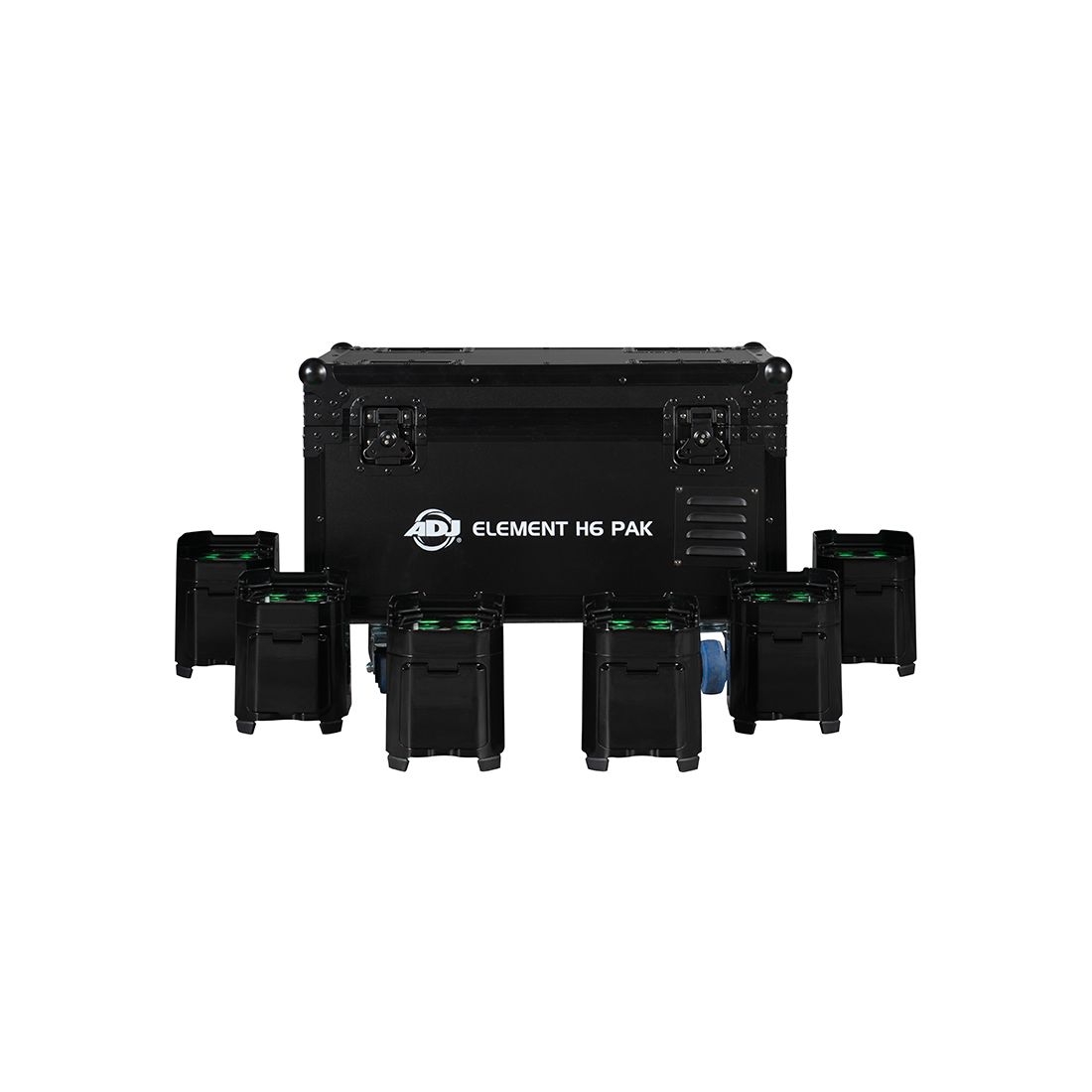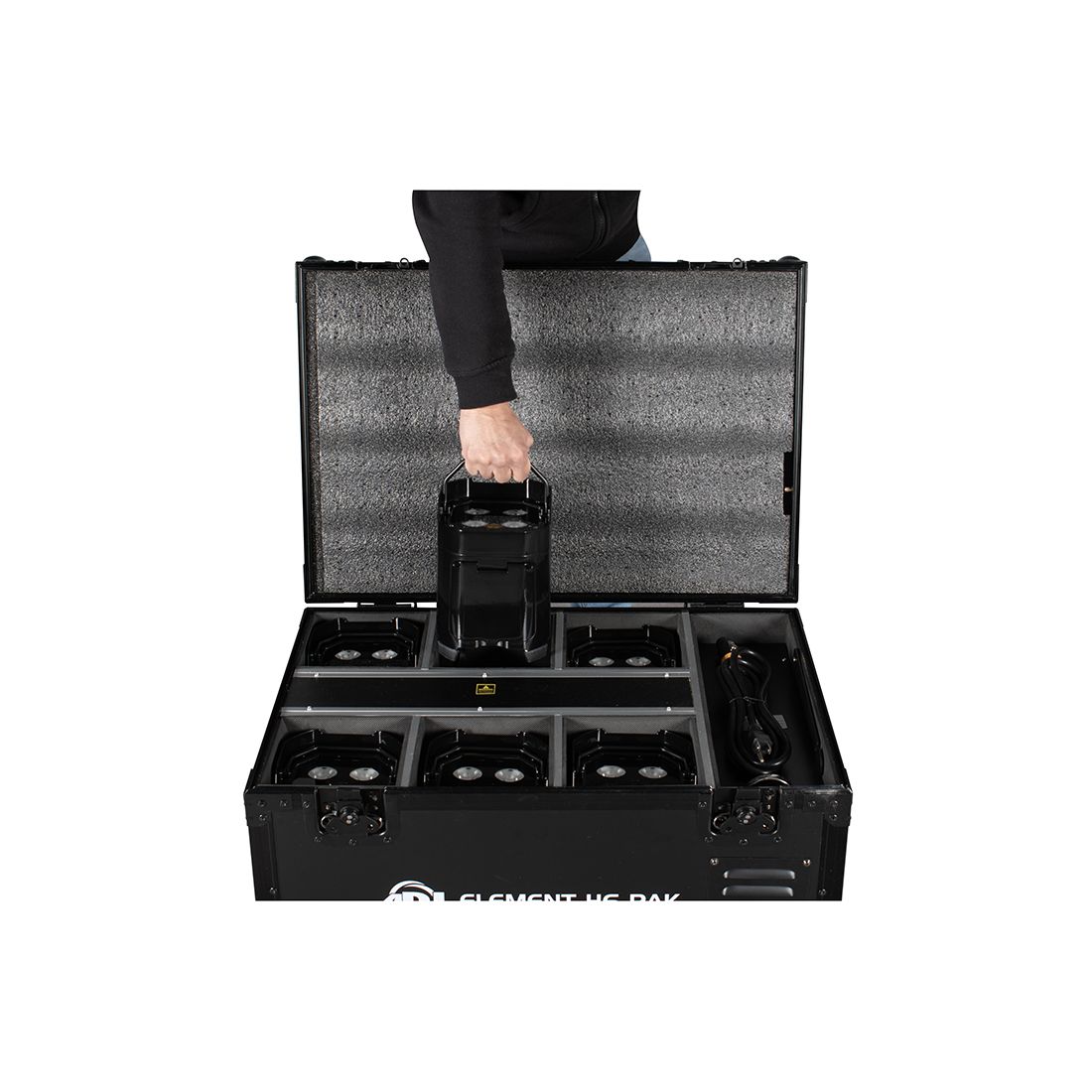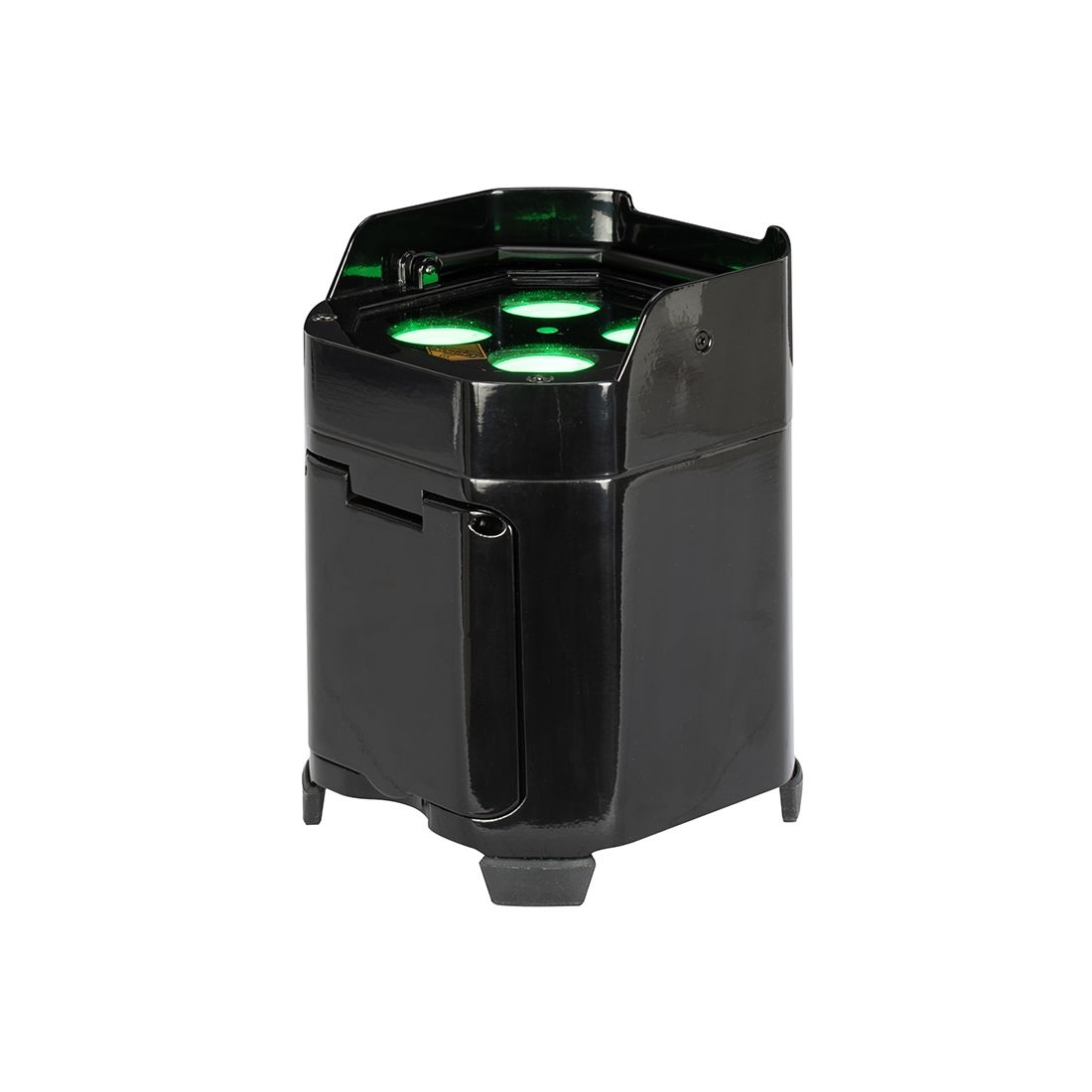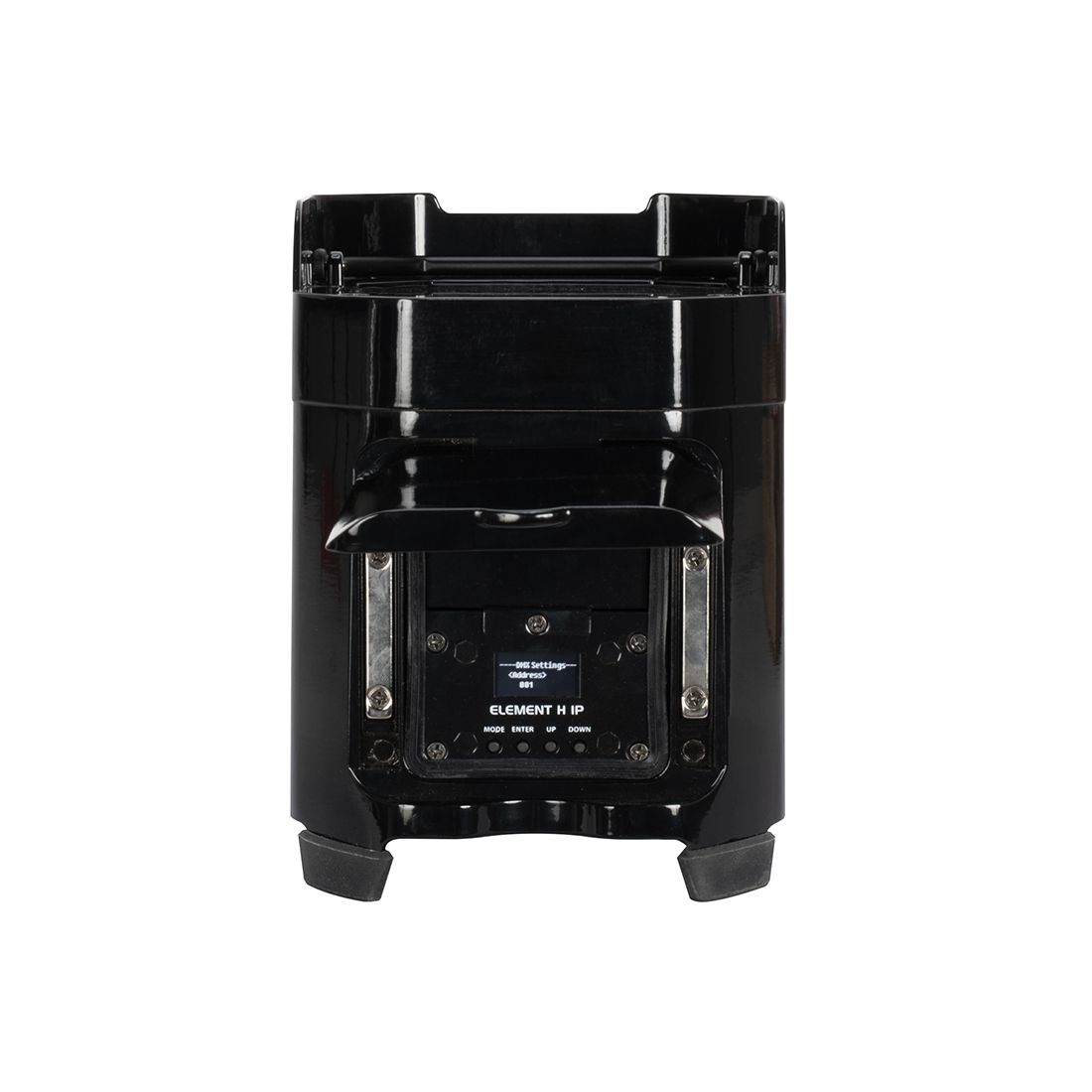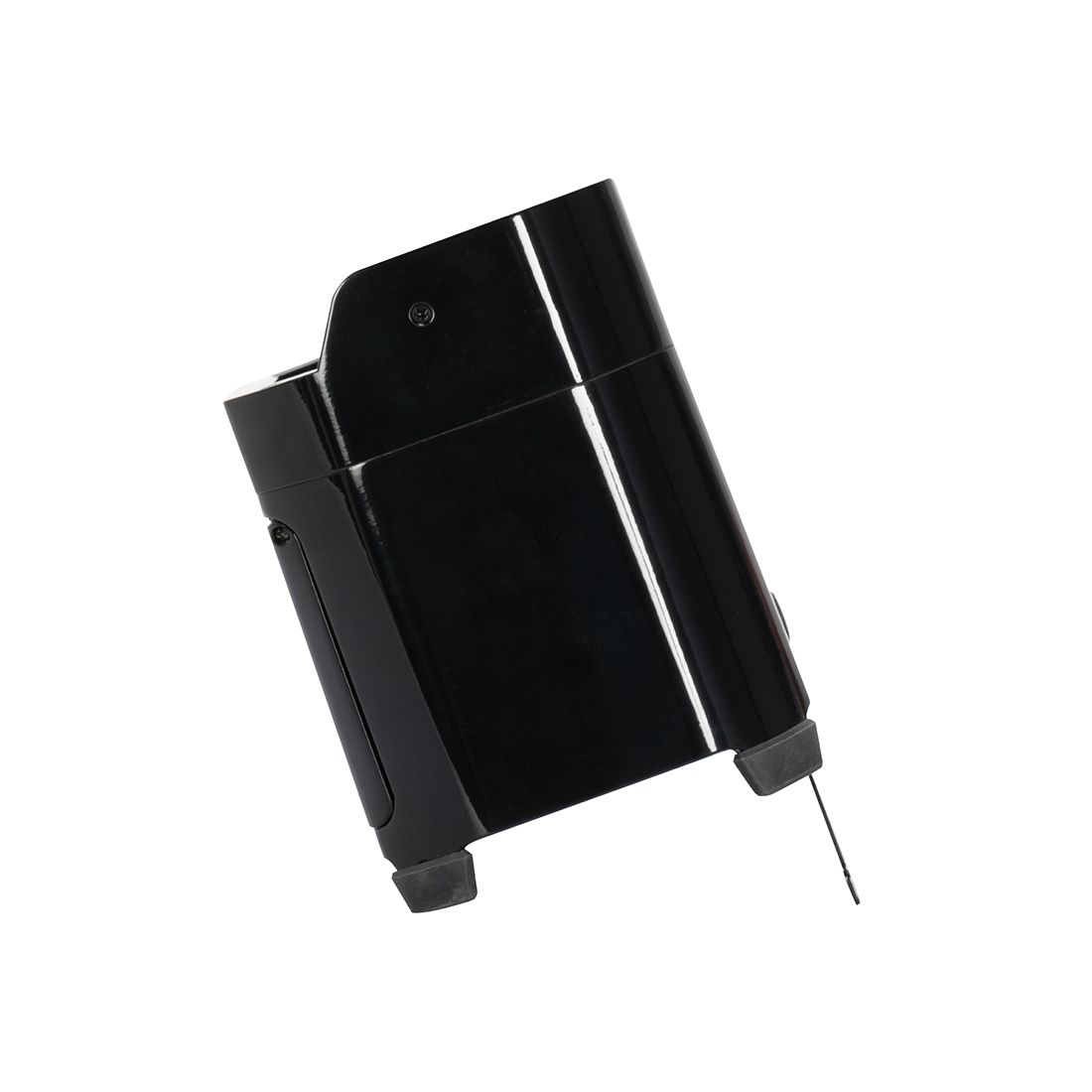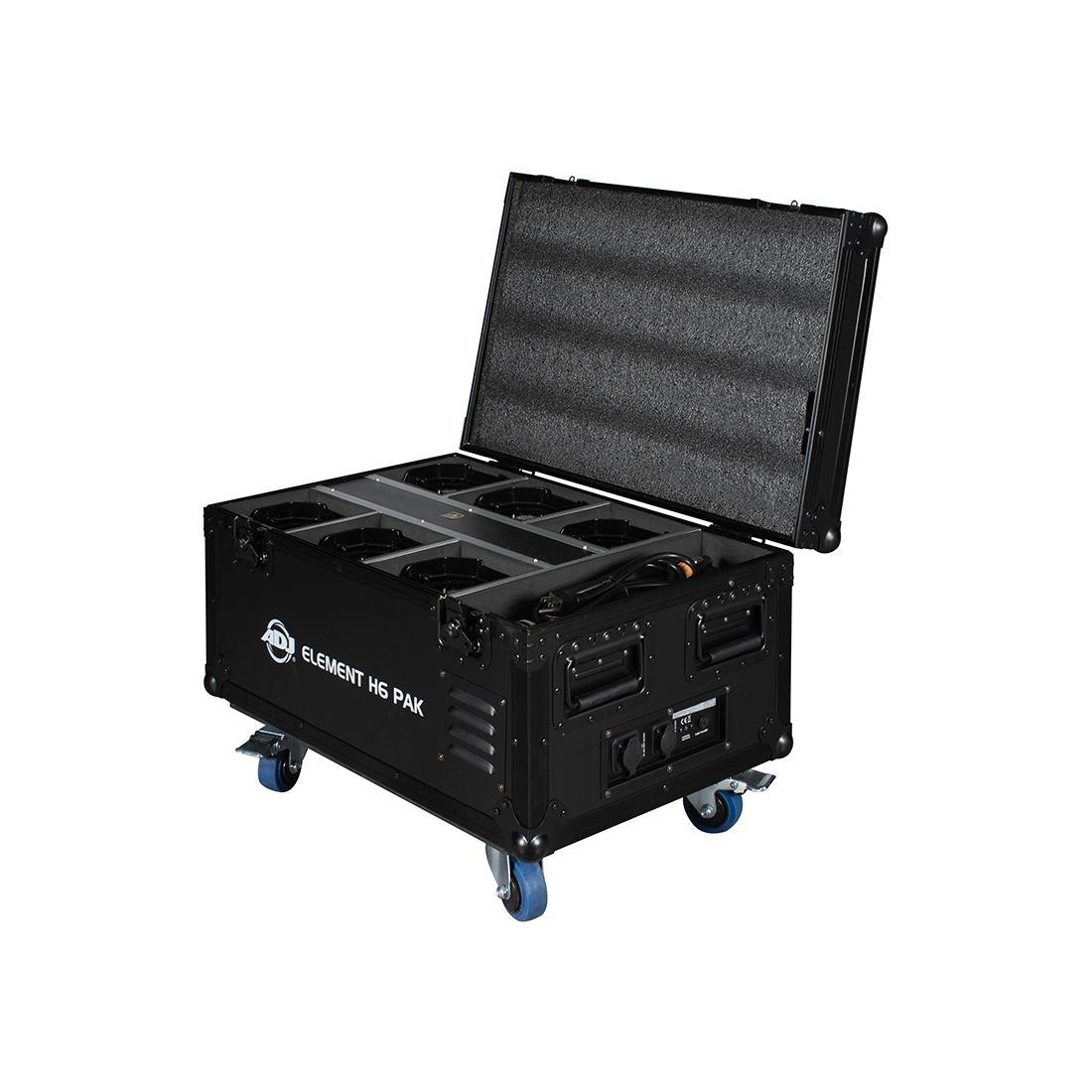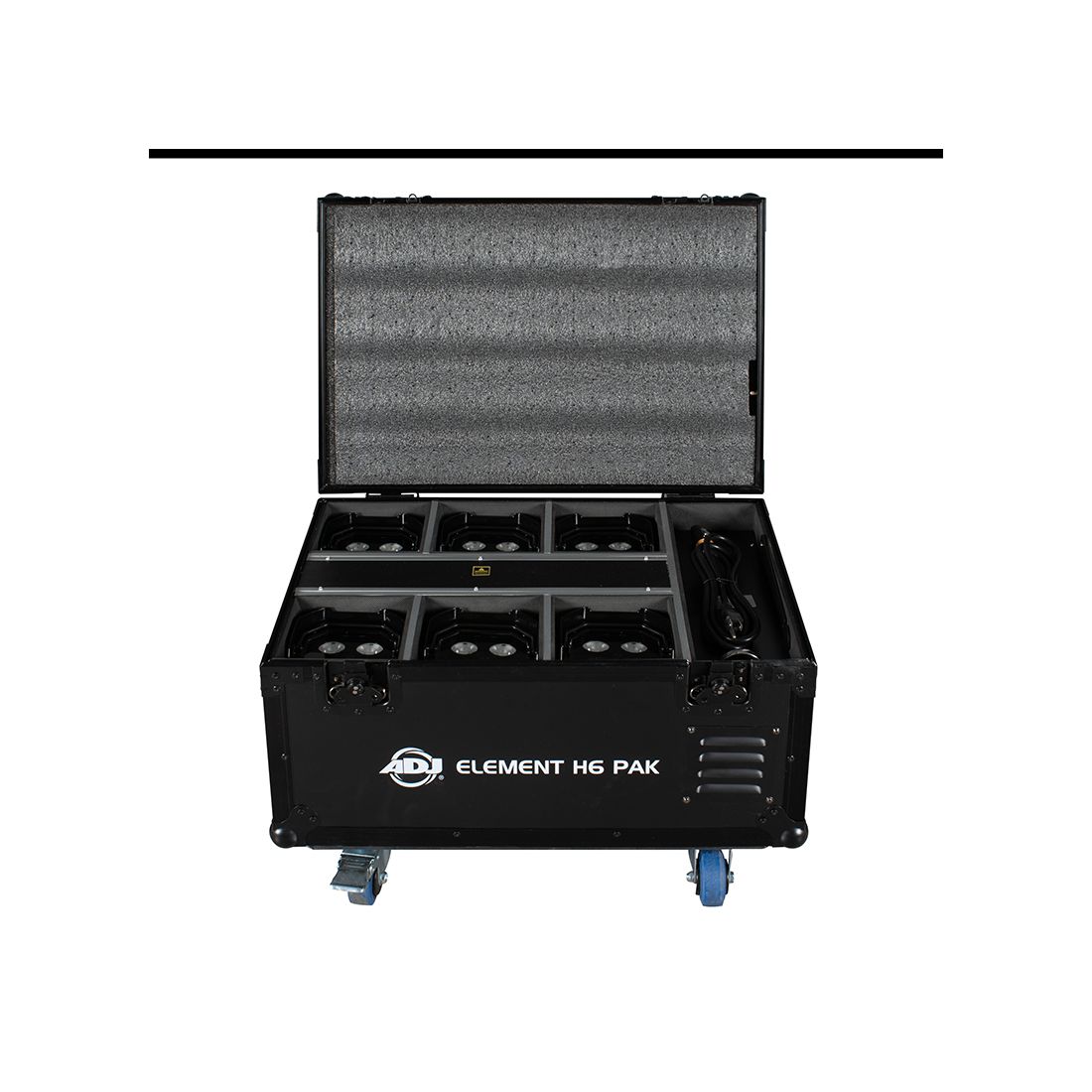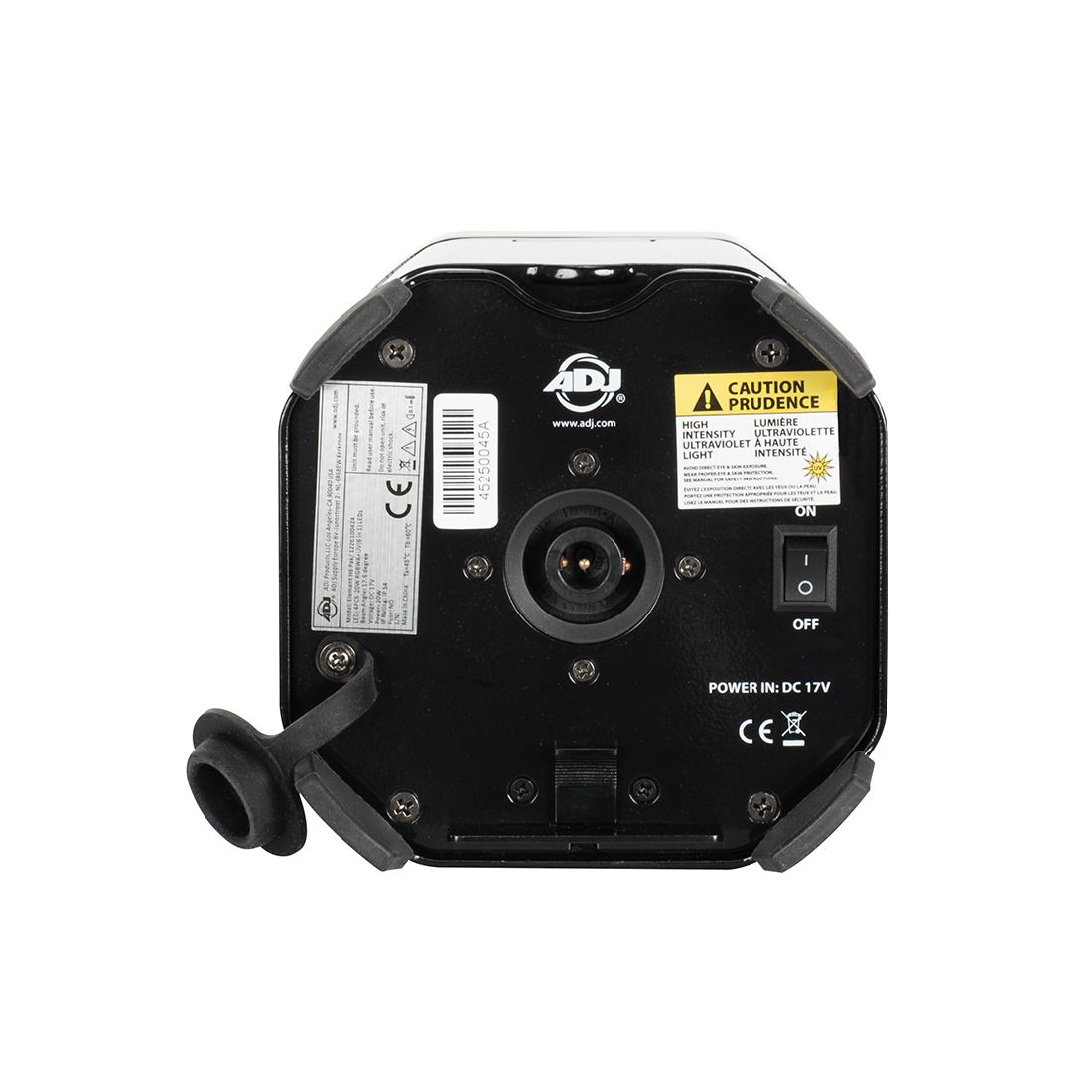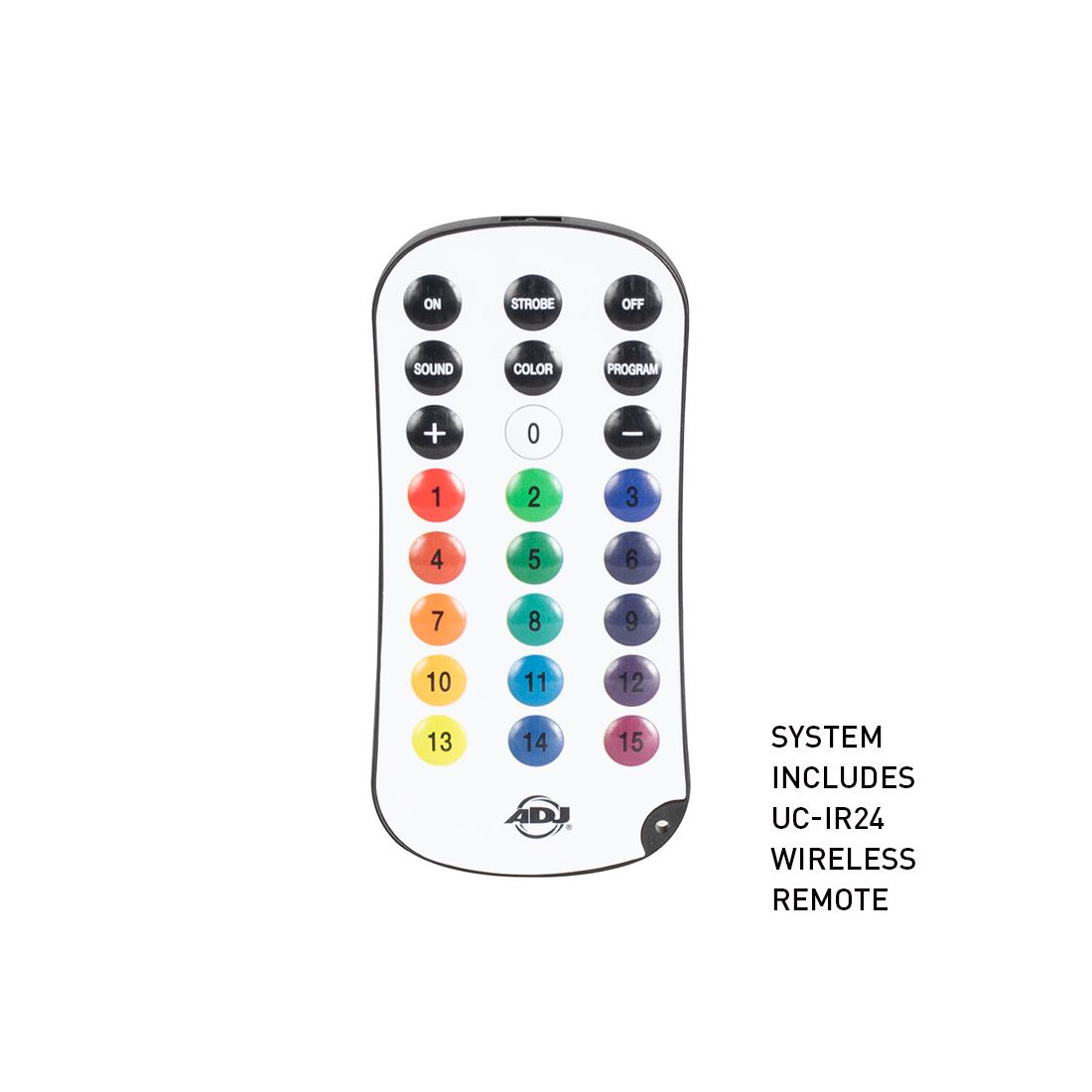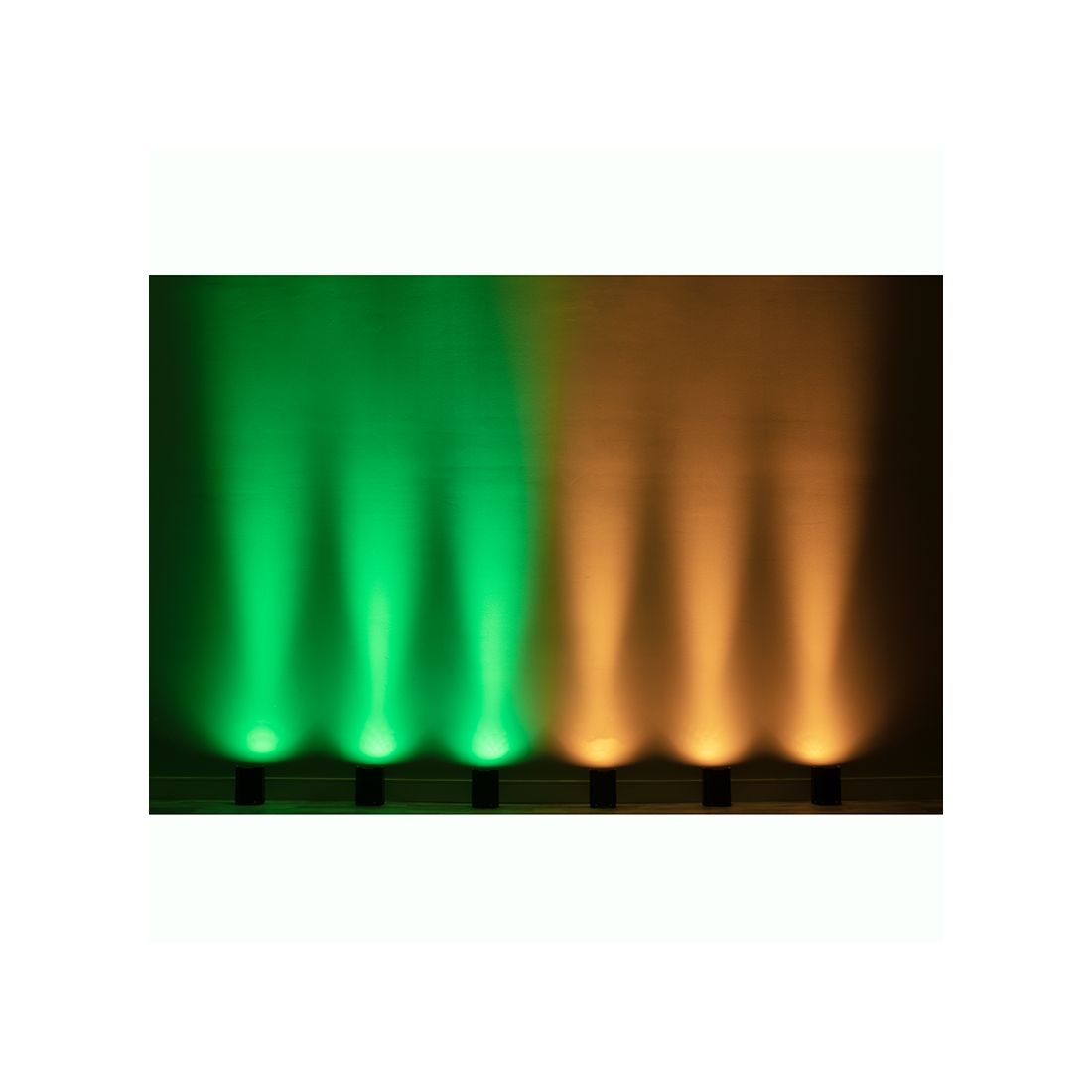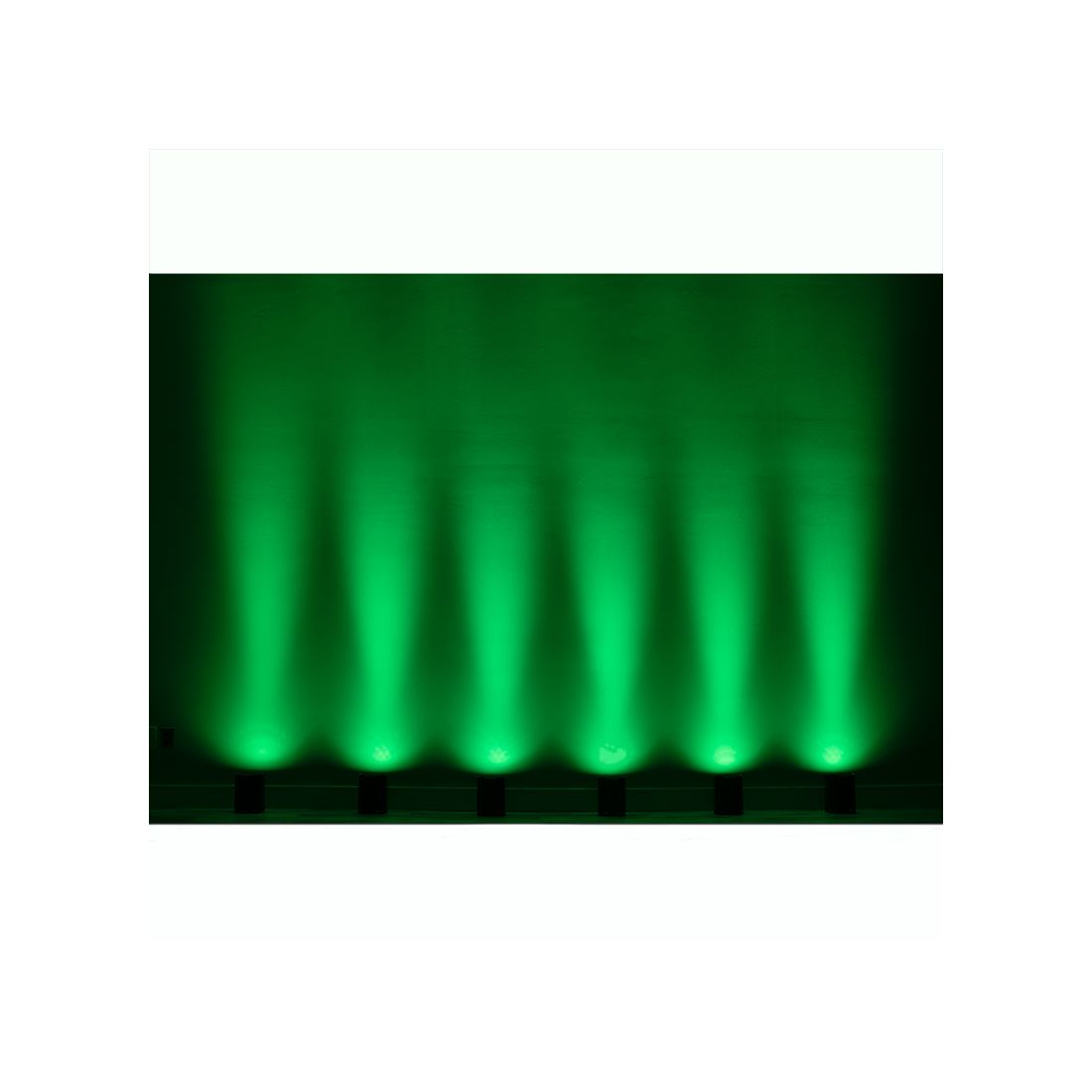 • (6) Element H IP Black Fixtures
• (1) Element H6 FC charging Flight Case
• (6) Mirage Q6 IPCB Charging bases and power supplies
• (1) UCIR24 Wireless Infrared Controller
• (1) IP65 Locking Power Cable
• Houses / Transports and Charges (6) Element H IP™ fixtures
• Length: 671mm
• Width: 461mm
• Vertical Height: 451mm
• Loaded Weight: 38.4kg
• Power Input: AC100VAC~240VAC, 50/60Hz
• IP65 Power Locking Input and Output
• Max Power Consumption: 200 Watts
• Power Draw: 3A max
• Charge status indicator
• -20°C to 45°C
• 4 x 20-Watt RGBAW+UV LEDs (6-in-1 - Red, Green, Blue, Amber White & UV)
• Life expectancy: rated at 50,000 hrs.
• LUX: 1117 @ 2M; 298 @ 4M
• Beam angle: 17.6°
• Field angle: 28.7°
• DMX: Wireless DMX
• Contact Charging system. *Charging base and power supply included
• Control protocol: WiFly EXR Wireless DMX
• 7 DMX Channel modes: 6, 8, 9, 12, 14, 15 or 17 channels
• Remote control: Wireless DMX, UC-IR24 (Included)
• 5 Operational modes: RGBAW+UV Dimmer Mode;Auto Run Mode (13 programs, & 1 color/fade combo mode); Static Color mode; and Wireless DMX Control
• IP54 Rated: partial protection from dust and water splashes
• Built-in kickstand to angle fixture when sitting on the floor
• 4-touch button OLED display inside cover panel
• Built-in WiFly EXR wireless DMX with signal LED indicator
• 63 built-in Color Macros
• Variable RGBAW+UV color mixing offers a smooth, seemingly unlimited color palette - Great for Stage or Wall Washing!
• LED pulse and strobe effect (0.2Hz-11Hz)
• Flicker Free Operation
• Electronic Dimming: 0 - 100% with 6 dim modes and 4 dim curves
• Run all night - No duty cycle
• Battery charge indicator on each fixture
• Energy Save Mode
• Battery Type: fixed polymer lithium battery
• Battery Energy: 59.2WH (Watt Hours)
• Battery Weight: 0.24 kg
• Battery Voltage: 14.8V
• Battery Capacity: 4000mAh (Typical Capacity)
• Total Lithium Ion Cells: 4 pieces
• Battery Wrap Material: PVC sleeving + highland barley paper
• Battery Charge Time: 6 Hours
• Battery Life: 6 Hours in Normal mode and 12 hours in Energy save mode(single color)
• Power Draw Total (All LED's @ Full On): 20W
• Voltage operation: DC17V
• Dimensions (LxWxH): 140 x 140 x 190.5mm
• Weight: 2.4kg
Specifications subject to change without notice